Aside from a new tank badge and paint scheme, the 1963 Harley-Davidson FL Duo-Glide didn't offer many changes.
However, Harley had tried something different for the 1961 models, when the age-old "waste spark" ignition was traded for a more modern -- but more complicated -- system employing two sets of points and coils. The experiment only lasted through 1964, after which the waste-spark setup returned.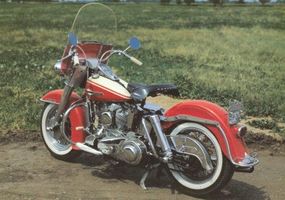 This is a fairly stripped example of the big FL, as most were fitted with saddlebags and two-passenger Buddy Seat -- in addition to the windshield -- all being requisites of the well-dressed touring motorcycle.