The 1931 Harley-Davidson Model D is the result of Harley's switch from F-head to flathead (side valve) V-twins in 1929. First came a new 45-cubic-inch model intended to compete with Indian's highly successful Scout. The following year, the 61-and 74-cubic-inch Big Twins were changed over to a flathead design.
This 1931 Model D is a 45-cubic-inch version. Forty-fives look very similar to their bigger brothers, and oftentimes the easiest way to tell them apart is that the forty-five's drive chain is on the right instead of the left.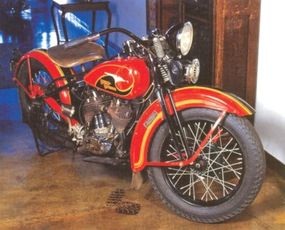 Prior to 1933, Harley-Davidson offered custom paint jobs that could be ordered in place of the standard olive. In 1933, the standard finish switched to a choice of two-tone colors with "eagle motif" graphics, though olive was still available.