1925 Ford Trucks
In 1925, a new Ford truck production record -- more than 270,000 units -- was set. Ford company also built its 12-millionth vehicle that year, and opened its first plant in Mexico. And William Clay Ford, Henry's third grandson, was born in 1925.
Ford's first real pickup truck was introduced for 1925: a Model T Runabout with pickup body. This example is shown carrying a weighty load of bananas.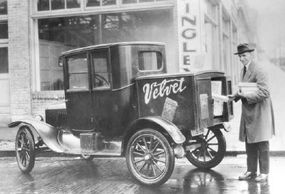 A Model T coupe is fitted with a large box trunk, perfect for delivering small items.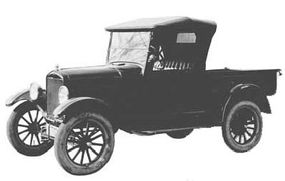 In a "radical" restyle for 1926, Ford Model Ts got a taller hood that flowed straight into the cowl, as shown on this Ford Runabout pickup.
The end of an era came when Ford ended Model T production in 1927. Learn about this important period for Ford trucks in the next section.
Want more information about Ford trucks? Try these:
1990-1999 Ford Trucks

1960-1969 Ford Trucks

1950-1959 Ford Trucks

1940-1949 Ford Trucks

Consumer Guide Auto New Large Pickup Truck Prices and Reviews

Consumer Guide Auto New Compact Pickup Truck Prices and Reviews

Consumer Guide Auto Truck Buying Guides

Consumer Guide Auto Used Compact Pickup Truck Prices and Reviews

Consumer Guide Auto Used Large Pickup Truck Prices and Reviews