1924 Ford Trucks
Ford trucks underwent important changes in 1924. Prior to 1924, Henry Ford sold his Model TT trucks as rolling chassis, leaving the body business to aftermarket companies. This attitude changed that year when Ford's first factory-catalogued truck was offered as the Model TT with Express (pickup) Body.
Ford's first truck cab, called (appropriately) the Open Cab, appeared in 1924, featuring a slanted windshield and C-shaped side openings. It's fitted here to a Model TT one-ton chassis.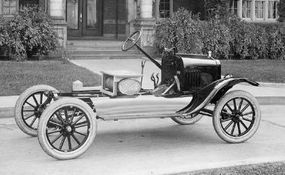 For light-duty use, a Model T chassis was still available. Note the oval-shaped fuel tank that was fitted to Model Ts beginning in the early 1920s.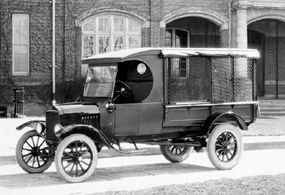 A Model TT with Open Cab hosts a new-for-1924 Express Body pickup bed -- Ford's first truck bed. This example is fitted with canopy top, screens, and side curtains.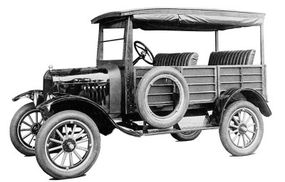 A canopy top covers the wood-panel body of this Ford Model T passenger vehicle. The side-mounted spare tire is fitted to a demountable rim.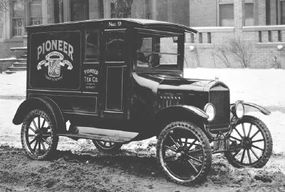 A 1924 Model T with panel body shows off that year's styling changes, which included a taller radiator and hood. It was owned by the Pioneer Tea Co. of Detroit.
Ford truck bodies again evolved in 1925. Read about 1925 Ford trucks in the next section.
Want more information about Ford trucks? Try these:
1990-1999 Ford Trucks

1960-1969 Ford Trucks

1950-1959 Ford Trucks

1940-1949 Ford Trucks

Consumer Guide Auto New Large Pickup Truck Prices and Reviews

Consumer Guide Auto New Compact Pickup Truck Prices and Reviews

Consumer Guide Auto Truck Buying Guides

Consumer Guide Auto Used Compact Pickup Truck Prices and Reviews

Consumer Guide Auto Used Large Pickup Truck Prices and Reviews