1920-1923 Ford Trucks
Ford set new production records for Ford trucks and Ford cars from 1920 to 1923. The company also saw changes in its corporate landscape, and in the marketplace overall.
Oakland, California-based Dreyer's trusted this 1920 Ford Model T truck to deliver ice cream to stores. Both companies are still in business.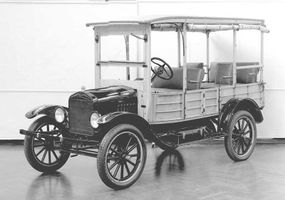 A 1920 Depot Hack is fitted with the demountable rims that became available on a broader range of vehicles that year. The rims allowed for easier flat repair, as the outer rim -- which held the tire -- could be separated from the wheel hub, which remained on the vehicle.
Nineteen twenty-one was a year of mixed results for the Ford Motor Company and Ford trucks. In May the company celebrated the production of its five-millionth Model T, but this good news was offset by the defection of Ford's brilliant production boss, William Knudsen, to Chevrolet. It was largely due to this move that Chevrolet became an automotive juggernaut, passing Ford on the sales charts by the end of the decade.
Another bit of negative news that year was that Dodge Brothers, Inc., an up-and-coming rival, signed an agreement with the Graham Brothers Truck Company to become the sole distributor of that brand. Later in the decade, Dodge would absorb Graham to become another serious competitor to Ford.
Things looked a little better for the Ford Motor Company in 1922. A new blast furnace was dedicated at the River Rouge Complex, and production of the Fordson tractor at this facility set a new record. Henry Ford also expanded his company's holdings by purchasing the assets of the Lincoln Motor Company for $8 million in 1922.
This Model T was converted into a truck, which in turn was converted into a snowmobile. The fenders were probably removed to accommodate the second rear axle, which allowed use of tanklike treads.
For 1923, Ford updated the look of the Model T cars and Model TT trucks, and total production of these vehicles topped 1.8 million units for the year.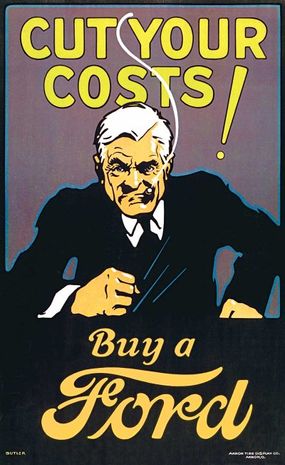 One of Ford's 1923 ads carried a simple message: A Ford cost less to buy and drive than virtually any other car, and businesses would do well to adopt them. Since Ford's sales and profits soared during this period, perhaps the advertising did its job, but it's hard to imagine such a dour-faced spokesman being used today.
In 1924, Ford made big changes to the ways in which it built its trucks. Read about them in the next section.
Want more infomation about Ford trucks? Try these:
1990-1999 Ford Trucks

1960-1969 Ford Trucks

1950-1959 Ford Trucks

1940-1949 Ford Trucks

Consumer Guide Auto New Large Pickup Truck Prices and Reviews

Consumer Guide Auto New Compact Pickup Truck Prices and Reviews

Consumer Guide Auto Truck Buying Guides

Consumer Guide Auto Used Compact Pickup Truck Prices and Reviews

Consumer Guide Auto Used Large Pickup Truck Prices and Reviews