1928 and 1929 Ford Trucks
More stylish than the Model Ts and TTs they replaced, the new Ford Model A cars and Ford Model AA trucks came with more standard equipment, a more powerful engine, and an easier-to-use transmission. So advanced and price-competitive were these vehicles that they became the hit of the 1928 model year.
Ford replaced the venerable Model T in 1928 with the completely new Model A. Like its predecessor, the A formed the basis for a truck chassis, the AA, which was rated at 11/2 tons vs. 1 ton for the Model TT. The company's first panel-truck bodies also arrived that year and could be fitted to either the A or AA chassis; it's shown here on the former.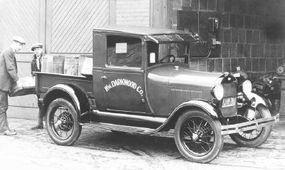 Among the Ford Model A truck offerings was this closed-cab pickup. Both the A and AA carried a 200-cubic-inch four-cylinder engine producing 40 horsepower -- twice that of the Model T's 177-cid four -- along with a sliding-gear three-speed transmission.
Ford trumped the industry again in 1929 when it introduced a new factory-built light-duty model: the wood-bodied Station Wagon.
But few events -- automotive or otherwise -- could match what was about to take place. For on October 29, thereafter referred to as "Black Tuesday," the nation's financial well-being would be dealt a serious blow as the stock market began to crash, triggering the Great Depression.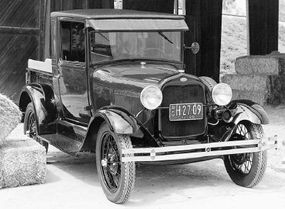 As might be expected, the 1929 Model B changed little after its 1928 redesign -- and it didn't need to; for the first time in three years, Ford topped Chevrolet in sales. This closed-cab pickup sold for $475.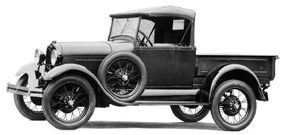 For about $30 less, buyers could get a Ford Model A pickup with an open cab.
With its innovations and ideas, Ford made a lasting impact on the automotive world during the 1920s. As the nation entered the Great Depression, Ford trucks and Ford cars would continue to innovate, offering the nation's car buyers a quality product at a quality price.
Want more information about Ford trucks? Try these:
1990-1999 Ford Trucks

1960-1969 Ford Trucks

1950-1959 Ford Trucks

1940-1949 Ford Trucks

Consumer Guide Auto New Large Pickup Truck Prices and Reviews

Consumer Guide Auto New Compact Pickup Truck Prices and Reviews

Consumer Guide Auto Truck Buying Guides

Consumer Guide Auto Used Compact Pickup Truck Prices and Reviews

Consumer Guide Auto Used Large Pickup Truck Prices and Reviews