1926 and 1927 Ford Trucks
In order to stimulate sales of the decidedly old-fashioned Model T, 1926 brought an option to Henry's famous "Any color as long as it's black" dictum that originated in 1914, with available hues of grey, green, and maroon.
Despite the fact Ford now offered its own truck bodies, outside manufacturers continued to sell special-purpose varieties, such as this panel delivery fitted to a 1926 Model T chassis.
But the writing was on the wall. The Ford Model T had outlived its usefulness, and shortly after building the 15-millionth copy in May 1927, production finally ground to a halt.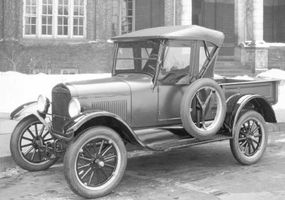 This 1927 Ford Model T Runabout pickup shows off the newly available two-tone color scheme, which always left the fenders and running boards in black. It proved to be among the last Model Ts made, as production ceased in spring 1927, after more than 15 million had been built.
The factory shutdown, however, was only temporary; Ford had an all-new design waiting in the wings. And what rolled out of plants later that year would make contemporary buyers forget all about the old "Tin Lizzie."
That new Ford, called the Model A, was introduced to the public on December 2, 1927. It was followed shortly thereafter by the Model AA trucks, and both were a hit with buyers.
Ford had a hit with the stylish and powerful Ford Model A car and Model AA truck. Read about these 1928 and 1929 Ford trucks in the next section.
Want more information about Ford trucks? Try these:
1990-1999 Ford Trucks

1960-1969 Ford Trucks

1950-1959 Ford Trucks

1940-1949 Ford Trucks

Consumer Guide Auto New Large Pickup Truck Prices and Reviews

Consumer Guide Auto New Compact Pickup Truck Prices and Reviews

Consumer Guide Auto Truck Buying Guides

Consumer Guide Auto Used Compact Pickup Truck Prices and Reviews

Consumer Guide Auto Used Large Pickup Truck Prices and Reviews