Two years after the first Harley-Davidson had chugged its way along the streets of Milwaukee, the 1905 Harley-Davidson made its appearance.
Motorcycle Image Gallery
Power from the 24.74-cubic-inch motor was enough to propel the machine to a reported 25 mph or so. By that time, their numbers had also increased dramatically: Eight of the shiny black machines had been built during 1904, with another sixteen hitting the streets in 1905.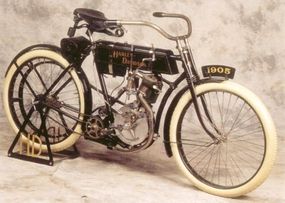 Only 16 of the 1905 Harley-Davidsonmodels were built.
The tall lever along the left side of the fuel tank adjusted tension on the leather drive belt. Since modern control cables had not yet been invented, intricate jointed shafts were used for throttle and other controls.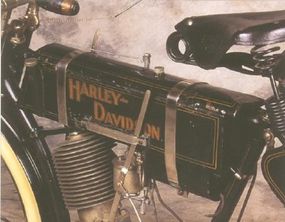 The 1905 Harley-Davidson featured an engine withan overhead intake valve.
The motor still used a vacuum-operated overhead intake valve and mechanically actuated side exhaust valve. A battery supplied juice to the ignition, but there was no on-board method for recharging it. To start the motor, riders would pedal the motorcycle up to speed -- not an easy task, as they were not only propelling a heavy bike, but also turning over the motor.
To learn more about Harley-Davidson and other classic motorcycles, see:
Harley-Davidson Motorcycles

Chopper Profiles

Classic Motorcycles