In 1997, Pete Chapouris, a rod builder of considerable accomplishment, approached Alex Xydias to license the So-Cal Speed Shop name. Alex agreed, and thus one of hot rodding's legendary names was resurrected. Under Chapouris' direction, the new So-Cal Speed Shop has flourished.
So-Cal has six licensed stores in addition to its Pomona, California, headquarters, and they all sell traditional hot rod and restoration parts, as well as T-shirts, posters, and lots of other So-Cal merchandise.
Hot Rod Image Gallery 
The So-Cal Speed Shop will also build you a hot rod much like the one featured here. This particular car is quite special, though. Much like the California Kid represented Chapouris' first rod shop, Pete and Jake's Hot Rod Repair, the So-Cal Roadsters are flagship cars for the various So-Cal Speed Shop locations. Each licensee has a So-Cal Roadster to help attract customers and show off the company's products. Plus, they're great fun to drive.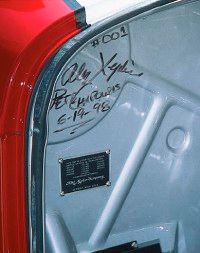 The signatures of Xydiasand Chapouris can befound on the firewall.
So-Cal Roadster no. 001 resides where all So-Cal roadsters originate, at the Pomona shop. Like the So-Cal Speed Shop itself, this roadster rings of tradition but is actually quite ­modern. Styled after Clyde Sturdy's Class B Modified that ran 142 mph at Bonneville in 1951, the car is built from state-of-the-art parts, from the blown Chevy 355-cid small-block V-8 to the So-Cal step-boxed chassis to the handcrafted Brook­ville Roadster steel '32 Ford body.
The car originally featured a potent (390 horsepower) 355-cid Chevy V-8. However, always looking to put more hot in its rods, the So-Cal gang swapped out that engine for a Chevy 355 equipped with a Holley 420 MegaBlower supercharger, dual Holley 600-cfm carbs, Holley aluminum heads, and a hydraulic roller cam.­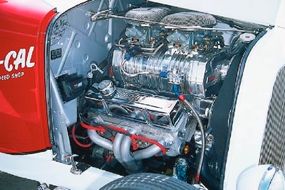 The engine in the So-Cal Roadster is a Chevy 355equipped with a Holley 420 MegaBlower supercharger.
The mill routes its 540 horsepower through a B&M four-speed automatic transmission to a Ford nine-inch rear end. An I-beam front axle with hairpin radius rods and a rear transverse spring with ladder bars work to keep the car on the pavement. Meanwhile, the 31-inch-tall, 16-inch-diameter bias-ply Firestone tires provide far too little grip for all that horsepower. But, with their Halibrand-style wheels, they do look right.
The price for all of this four-wheeled nostalgia is in the ballpark of $125,000, and that's with a lesser, yet still-potent, engine. You can see one in person at your friendly neighborhood So-Cal Speed Shop. Or, if you have the means, you can order one of your own.
To learn more about custom cars and hot rods, see: