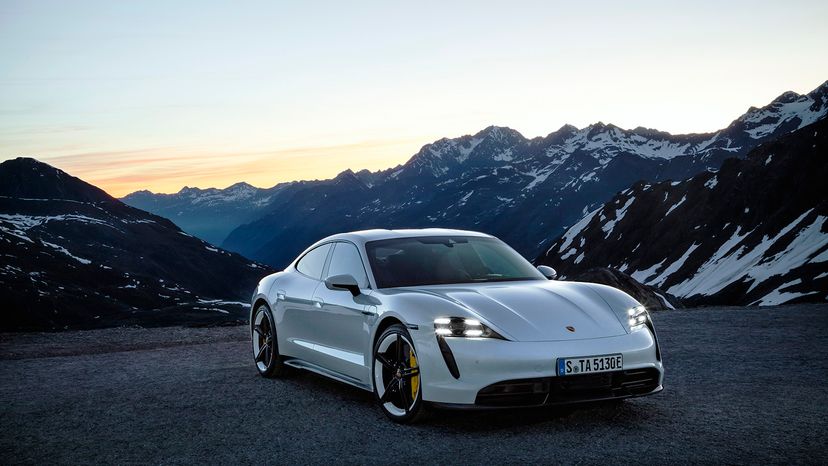 The new Porsche Taycan is a four-door sedan with all-wheel drive, an electric motor on each axle, and a new, two-speed transmission.
Porsche
On Wednesday, Sept. 4, 2019, Porsche revealed the long-awaited Taycan, its fully electric sports car. The dramatic unveiling took place simultaneously on three continents to represent what Porsche says are the Taycan's most important markets: in Niagara Falls in North America; at a wind farm on Pingtan Island in Fujian Province in China; and at a solar farm in Germany.
Porsche is calling the Taycan "the sports car for a sustainable future," which is sure to ruffle some feathers, especially among diehard Tesla devotees. Porsche may not be picking that fight, exactly, but it's not backing down from one, either.
The Taycan Is Powerful
Two Taycan models were unveiled at the launch — the Taycan Turbo and Taycan Turbo S. This naming convention is typical for Porsche, though it's a bit of a misnomer because electric cars can't be turbocharged like gas or diesel cars. So, neither has forced induction, but they do have plenty of other cool stuff.
The Taycan is a four-door sedan with all-wheel drive, an electric motor on each axle, and a new, two-speed transmission. The Taycan Turbo motors combine for 670 horsepower, good for a 3.0-second 0 to 60 miles per hour time (0 to 96 kilometers per hour), while the Taycan Turbo S has an output of 750 horsepower and shaves .4 of a second off the 0 to 60 sprint. Top speed of both models is 161 miles per hour (259 kilometers per hour).
The Taycan hits those power figures thanks to its new electric motor design, which fits more copper to increase output. Battery technology is another area where the Taycan makes strides, as it features the first 800-volt system used in a production electric car. This provides a huge advantage over the typical 400-volt system, enabling the Taycan to charge from 5 to 80 percent in less than 23 minutes in ideal conditions (that is, using a high capacity charger and perfect weather).
Porsche is leveraging its relationship with Volkswagen and VW's Electrify America subsidiary to grant Taycan owners access to Electrify America's charging network, making the first 30 minutes of a charge free for the first three years of ownership. As for how far the Taycan can go between charges, the Environmental Protection Agency (EPA) range estimate is still pending for North America.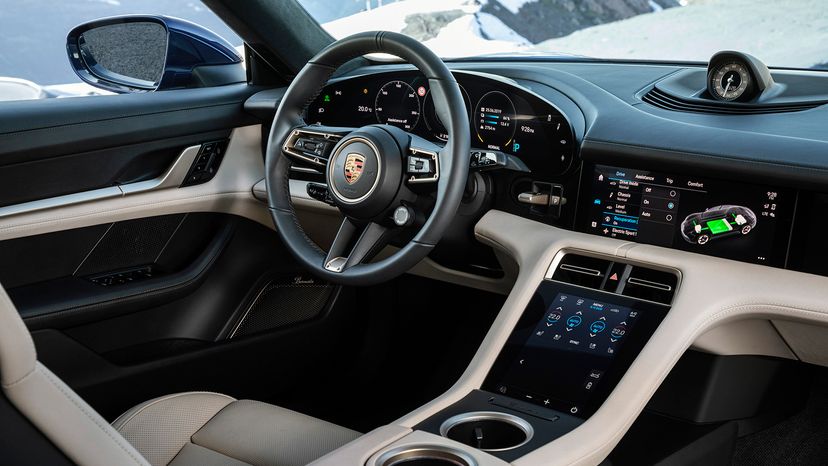 The Taycan's technological advancements are a big step forward for electric cars.
Porsche
More Firsts for Porsche
The Taycan also offers Porsche's first leather-free interior, which features upholstery and other cabin finishes made from recycled materials. Porsche says this is a move designed to support the notion of the Taycan's sustainability. The car also includes a cool cockpit with a curved instrument cluster, large infotainment display (and an optional passenger display) that all respond to the command "Hey Porsche." Hey, that's cool.
The sporty exterior of the Taycan looks, well, totally like a Porsche, but it's clear that this car marks a turning point for the car company. "The Taycan links our heritage to the future. It carries forward the success story of our brand," Porsche's Chairman of the Executive Board, Oliver Blume, said in a press statement. "This day marks the start of a new era."
The Taycan's technological advancements are a big step forward for electric cars. After the initial run of high-performance Taycans hits showrooms, Porsche will roll out less powerful (and ostensibly, more affordable) Taycan models, including the Taycan Cross Turismo, a low-slung electric wagon slated to go on sale in late 2020.
By 2022, the automaker says it plans to have invested more than $6.6 billion in "electric mobility," which supports the widespread theory that this is a significant turning point for the brand. In other words, electric Porsche cars may soon be the norm.
The 2020 Taycan will begin arriving at Porsche dealers later in 2019, and is slated to join Porsche's Passport subscription service in early 2020. The base Taycan Turbo will have an MSRP of $150,900, while the Turbo S will start at $185,000. At those prices, the Taycan is not an immediate threat to Tesla, though Porsche says it hopes to offer sub-$100,000 Taycan models down the road.