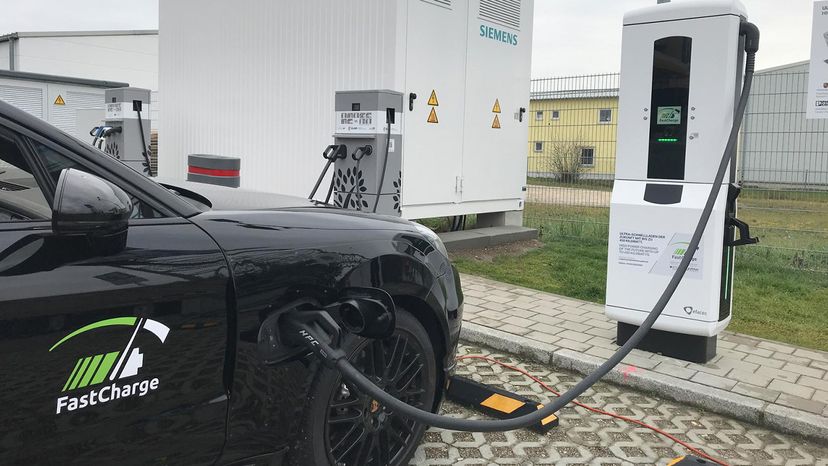 BMW and Porsche worked together to unveil a prototype for an EV charging station with an output of up to 450 kW.
Porsche
One of the complaints about electric vehicles (EVs) — aside from they don't go far enough on a charge — is how long it takes to re-charge those batteries. But that could be about to change.
BMW and Porsche together unveiled a "FastCharge" prototype station that charges EVs faster than anything we've seen previously, though the system is still currently available only in Germany. For those with EVs in the U.S., there's this good news: More robust public charging networks will be coming online across the country, as well, by Electrify America. But before we get into the specifics, let's take a quick look at the current state of EV charging.
EV Charging Today
EV owners tend to charge whenever there is a charging station available where they park. Unlike most gas car owners, EV owners don't wait until they're car is close to empty to "refill." That means they're always on the lookout for a place to top off, but for now, most EV charging occurs at home.
Public charging networks are available in three forms: free, pay-as-you-go and subscription based. There can be some overlap here, such as a network sponsored by a particular vehicle manufacturer that enables owners of that brand's vehicles to plug in for free, while others have to pay to use it.
Right now, the fastest available EV chargers are generally on public networks and can juice an EV to about 80 percent full in about 30 minutes. Currently, there are three main kinds of EV chargers, known as Levels 1, 2 and 3.
Level 1 is for 120-volt charging and provides 1.4 kW of power. It takes between 17 and 25 hours to fully charge a car that has a 100-mile (160-kilometer) range. In other words, Level 1 charging is what you get at home if you plug your EV into the outlet in overnight.

Level 2 chargers are good for 208 to 240 volts and 6.2 to 7.6 kW. These stations can charge that same 100-mile EV in four or five hours. That's a long time to leave your car hooked up to the charger at your grocery store. But until recently, these were the main options available to most EV drivers. Level 2 chargers are available to consumers for home installation, and there's a wide range of manufacturers and models. It's important for buyers to ensure the charging system they buy is compatible with the car model they own in terms of charging capability.
Level 3 chargers provide between 20 and 50 kW and can recharge a vehicle in as little as 20 minutes, but not all vehicles can use Level 3 chargers. Level 3 stations are designed for public use.
Tesla's Supercharger network, designed specifically for Tesla vehicles, is marketed as the standard to which all other EV infrastructure should aspire. It operates at 150 kW, which is enough to charge some cars in as little as an hour. The Supercharger, which operates up to 120 kW, can charge a Tesla about 80 percent in about 30 minutes.
The Newest Charger Prototype
The reason the new BMW and Porsche charger is such a big deal is because it is capable of adding 62 miles (99 kilometers) of range in just three minutes. That is more than twice as fast as Tesla's current-generation Supercharger. The system operates at 450 kW, but there aren't any EVs currently capable of taking that much of a charge, so it's really ahead of its time in terms of usefulness. Though cars and the charger have mechanisms to prevent frying EV batteries, so most can still use it. The new FastCharge prototype charging station is free and can be used for by any electric vehicle with a Type 2 charger.
The prototype vehicle used for development and testing needed upgrades to its battery cooling system and a special liquid-cooled charging cable was developed for the charger. BMW and Porsche worked with several engineering firms: Siemens AG, Allego GmbH, and Phoenix Contact E-Mobility GmbH.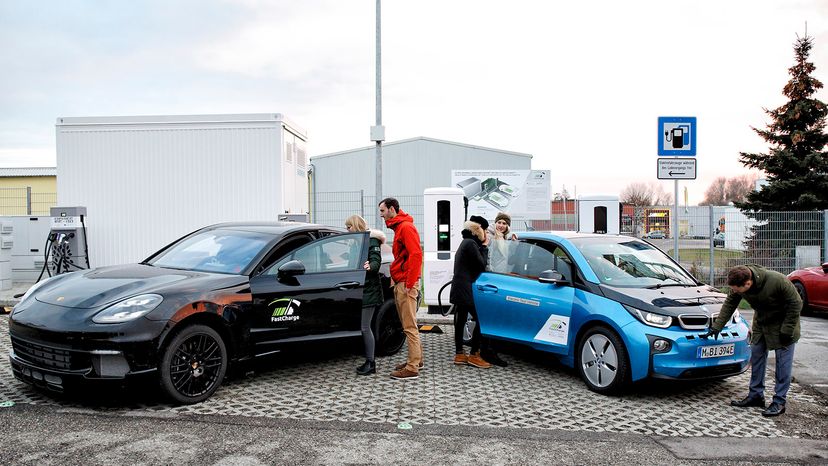 Users test out the new EV charging station in Jettingen-Scheppach, German, located near the A8 motorway.
BMW
Electrifying America's Roadways
Faster EV charging is also coming the U.S. Electrify America is an EV advocacy organization created as part of Volkswagen's court-ordered restitution for the Dieselgate fiasco, in which VW deliberately obscured the fact that its diesel vehicles (along with those from Audi and Porsche) were not as clean or as efficient as they were marketed. As part of the initiative, Electrify America is rolling out new, more powerful chargers in stages across the country.
In December 2018, the company installed 10 350-kW chargers at a Simon mall in San Francisco and plans to install fast chargers at Simon locations nationwide. In theory, these chargers can give an EV about 200 miles (321 kilometers) of range in about 10 minutes. In reality, though, these chargers could be putting the cart before the horse, since no EV on the road in the U.S. can handle that much current yet.
In the meantime, owners of current EVs can still use these chargers, as well. And upgraded battery and charging capability is in the works. But all this means for now, these chargers still only provide the range and speed that EV drivers are accustomed to.