The Nadean custom car was, like so many other new-wave style customs in the early 1990s, spawned by the tremendous impact of CadZZilla™. Owner Pat Hurley and body man Jim Bailie, both of Windsor, Ontario, Canada, collaborated with CadZZilla™ designer Larry Erickson to bring to life a wild 1953 Buick-based custom named Nadean.
Following Erickson's design sketches, Jim and Pat set to work on Pat's $200 1953 Buick in 1992. By the time they were finished almost two years later, very little '53 Buick would be left. The entire roof from a '65 Chevy Impala two-door hardtop, including the windshield and rear window, was grafted onto the Buick's body in a lowered position.
The rest of the body was extensively reshaped with panels handcrafted from 18-gauge steel to complement the new profile. The Buick's doors were sectioned three inches, and the ice cream cone-shaped rearview mirrors were handmade.
Up front, the front fenders were extended four inches and their wheel openings were enlarged and reshaped. The headlights were frenched into custom-formed teardrop-shaped coves that echo the stock Buick headlight bezel design. A simple grille bar crafted from a 1968 Mustang front bumper was mounted in a hand-formed grille opening.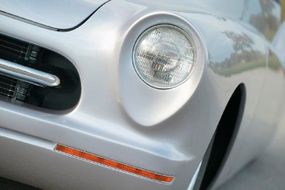 Jim also formed a crisply shaped rolled pan with an inset channel that neatly terminates into custom-made turn signal lenses. The front-hinged hood was created by melding together '49 Mercury and '53 Buick pieces.
At the rear, the fenders were extended five inches and the wheel openings were lowered. The rear fascia was formed by hand to include stainless steel exhaust outlets and an inset license plate well. The plate flips down for filler access to the gas tank. Full-length vertical taillights were handmade to mimic the attractive shape of early '90s production Cadillac lenses; not surprising, since Larry Erickson was employed as a Cadillac designer when he penned Nadean.
The reconfigured body was set on a frame and modified floorpan from a 1976 Cadillac Eldorado that was shortened six inches and stepped up five inches at the rear. Some of the Eldo's chassis components were carried over intact, including the front-wheel drive transaxle and four-wheel disc brakes. The stock 500-cid Cadillac engine was treated to a wild ­custom-fabricated flip-forward air cleaner and body-color-matched valve covers with hand-painted "Nadean" lettering.
A full hydraulic system was hidden at the forward edge of the trunk, and is accessible via a lift-off panel. With the suspension in the "dropped" position, Nadean's overall height is just 46 inches. One-off billet aluminum 16-inch wheels were designed by Erickson and machined by Budnik; they feature a modern interpretation of the Buick tri-bar shield.
After the extensive bodywork was completed, Todd Hillman coated Nadean's voluptuous contours with an understated ­silver-lavender metallic paint job. John Wilke then handled the upholstery chores. The chassis-donor 1976 Eldorado also gave up its power front seats, which were covered in tweed-like mauve-colored cloth along with the rest of the interior.
The 1965 Chevy dashboard was narrowed four inches and fitted with a custom billet-aluminum panel filled with VDO gauges. Creature comforts include Vintage Air heating and air conditioning and an Alpine six-speaker CD stereo.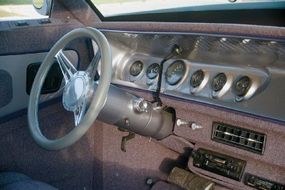 Nadean made her debut at the 1994 Detroit Autorama, arriving at the peak of the forward-thinking, high-tech, billet-aluminum phase of custom history. In the ensuing years, customizing trends gravitated back to a more traditional style, with fewer wholesale changes to an old car's design. Nadean remains an incredibly ambitious restyling effort. It's a virtual clean-sheet redesign that retains only faint elements of the original vehicle and makes a very modern design statement.