The 1958 Buick Limited was supposed to be Buick's key to reentering the luxury car market. Buick, however, couldn't have picked a worse time. For although no one could have foreseen it when the new Limited series was in the planning stages, 1958 turned out to be a recession year, with the economy experiencing its worst downturn since the 1930s.
To compound the problem, thousands of American motorists appeared suddenly to tire of the big road-locomotives that had been in vogue for so long, and of which Buick had built so many. The day of the compact car had come.
Buick sales plummeted 37 percent from 1957, but that's not the half of it -- because 1957's volume, in turn, had reached barely over half that of the pace-setting 1955 season.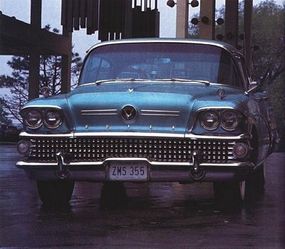 A lot of things had gone wrong since 1954, when Buick leapfrogged over Plymouth to cop third place in the sales race for the first time since 1926. Savoring the sweet taste of success, Buick pushed ahead in 1955 to turn out 781,296 automobiles, a hefty 47 percent increase over the year before and a new record for the division.
Unfortunately, it was set at the cost of a serious erosion in quality control, not to mention some uncorrected design flaws.
See what changes were made to achieve widespread acceptance of the 1958 Buick Limited in the following pages.
For more information on cars, see:
Classic Cars

Consumer Guide New Car Search

Consumer Guide Used Car Search