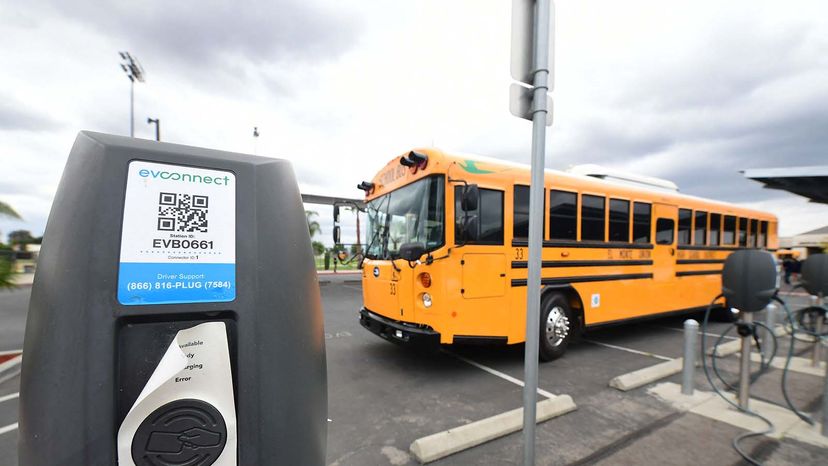 President Joe Biden's infrastructure plan has $2.5 billion earmarked for zero-emissions buses, like this new EV school bus parked beside charging stations at South El Monte High School in El Monte, California.
FREDERIC J. BROWN/AFP via Getty Images
America's famous yellow school buses have been slowly going electric. But more will be plugging in thanks in large part to the $1.2 trillion bipartisan infrastructure bill passed by the U.S. Senate Aug. 10, 2021.
While the bill has not yet been passed by the House, many in the sustainable transportation community are already excited about what this bill could mean for the possibility of electrifying more of the U.S.'s fleet of 480,000 school buses and how that could help lower emissions and improve air quality.
Of the $1.2 trillion infrastructure bill, $2.5 billion is earmarked for zero-emissions buses — enough for roughly 11,000 electric buses — and another $2.5 billion for "low-emission" ones. The low-emissions buses could be fueled by natural gas or propane.
While this might seem like a lot of money, it is significantly less than what President Joe Biden initially proposed in March of this year, which was a $174 billion lump sum to boost the electric vehicle market, including 96,000 school buses, instead of the 11,000 the bill would cover now.
Why School Buses?
There are a lot of reasons it makes sense for school buses to go electric. First, most new electric buses have a range of up to 120 miles (193 kilometers) on a single charge, which is plenty far enough for the average school bus route. Second, some charging systems, like the new 120kW DC Fast Charger from Bluebird, can charge a bus in just 90 minutes. Plus, electric buses also require a lot less maintenance than their diesel counterparts.
But it's also simple numbers: School buses currently make up around 80 percent of the buses on the roads in the U.S. and 95 percent of those run on high-polluting diesel fuel. Right now, less than 1 percent are electric. (For context, the entire U.S. transit fleet has around 70,000 public transportation buses, which is less than 15 percent of the total number of 480,000 school buses.)
"Transportation is the largest contributor to greenhouse gas emissions in the U.S.," says Lauren Justice, development director at the Center for Transportation and the Environment. "The medium- and heavy-duty sector produces more than 25 percent of these emissions, despite comprising less than 5 percent of vehicles on the road."
If the entire school bus fleet were electrified, greenhouse gas emissions from all buses in the U.S. would be reduced by around 50 percent.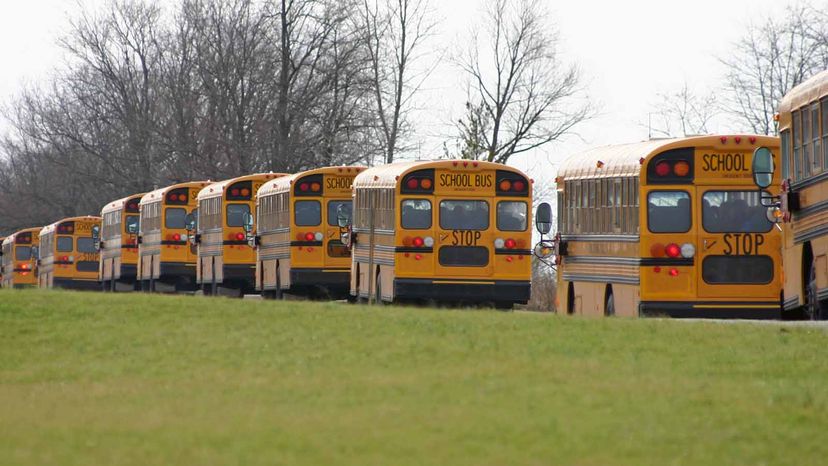 School buses currently make up around 80 percent of the buses on the roads in the U.S.
sonya etchison/Shutterstock
Along with the issue of adding greenhouse gases into the atmosphere, increasing global warming and its associated risks, these emissions are also harmful for the 20 million school children who ride these buses to school. Not only are these buses emitting in the neighborhoods through which they drive, but the pollution inside the bus can actually be up to 12 times higher than ambient levels.
In addition, it's an issue of equity. According to the World Resources Institute, students from low-income communities are particularly exposed to this toxic pollution. From WRI:
Sixty percent of students from low-income families ride the bus to school, compared to 45 percent of students from families with higher incomes. Moreover, communities of color are more likely to suffer from vehicle-based air pollution due to historically racist lending, transit, housing and zoning policies that concentrated black and brown communities closer to highways and other pollution sources.
"Switching from diesel-powered school buses to electric could avoid an average of 5.3 million tons [4.8 metric tons] of greenhouse gas emissions each year, and over 700,000 pounds [317,514 kilograms] of EPA-criteria pollutants emitted near children," Justice says.
Can It Be Done?
Advocates believe it can be, but they say much more money needs to be allocated to the issue, and that the infrastructure bill is definitely not enough on its own. And it's not just about money. There also need to be plans in place to help school districts through the transition to electric buses.
"The critical piece that any successful plan must include is an avenue for school districts to receive technical assistance," Justice says.
While most school buses are still diesel-powered, some districts have been adding electric buses to their fleets. In Maryland, for example, the Montgomery County Public Schools has plans to get 326 electric school buses over the next four years. This is the largest commitment by any single school district to date.
However, as previously mentioned, there is inequality baked into the system, and that is just as true for which areas will get more electric school buses more quickly. Already, the largest share — 36 percent — of school districts with at least one electric school bus are in suburban areas, which tend to be wealthier. In addition, two-thirds of all committed future electric buses are in suburban areas, with just a quarter in cities, and 7 percent and 6 percent in towns and rural areas respectively. However, 33 states have electric school buses announced, procured, delivered or in operation.
Along with the infrastructure bill, there are numerous other programs and political initiatives to electrify the nation's school buses. In February of this year, the Clean School Bus Act was reintroduced in the U.S. Senate and the House of Representatives. This act would establish a "Clean School Bus Grant Program" to award grants to replace existing school buses with electric ones. However, as of now, the bill is stalled in subcommittee.
Another program highlighted by Justice is the Federal Transit Authority's "Low or No Emission Vehicle Program," which allocates roughly $182 million in funding for low- and no-emissions buses and the facilities that support them. Its goal is to support the infrastructure bill to reduce greenhouse gas emissions by 50 percent by the end of the decade.
While Justice and other clean transportation advocates are pleased that the infrastructure bill is addressing this problem, they know that there is a still a long way to go when it comes to electrifying the school buses in the U.S.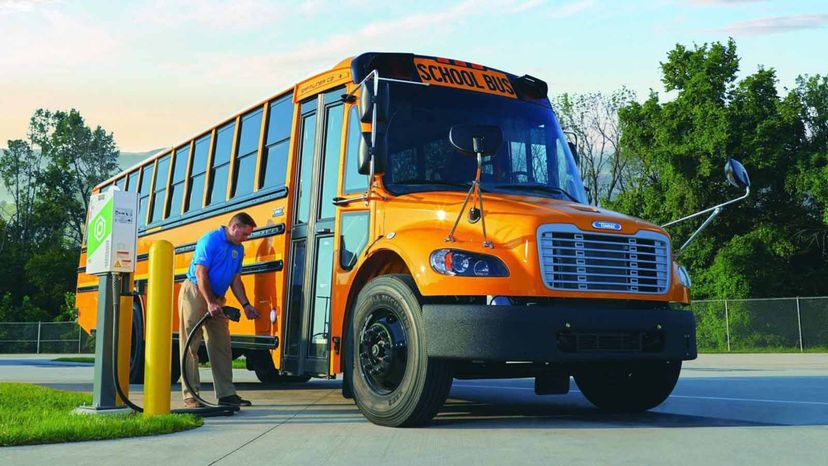 The Montgomery County Public Schools Board of Education (Maryland) will convert its entire school bus fleet to electric, starting with 326 school buses over the next four years. This project represents the largest single procurement of electric school buses in North America.
Proterra