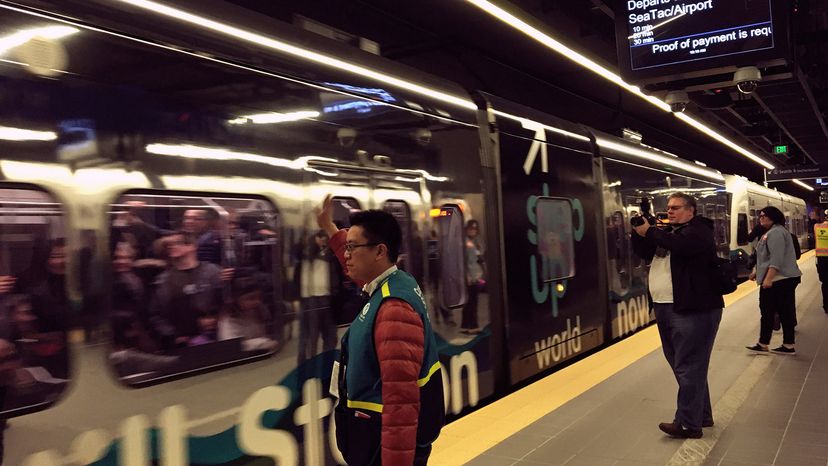 Seattle's Link Light Rail travels between University of Washington Station and Angle Lake Station, making 14 stops along the way, including downtown Seattle and Sea-Tac Airport.
Seattle Department of Transportation
Whether you live in a major metropolitan city or choose to live far away in less urban areas, you no doubt spend time commuting to and from work, or just going around town in general.
But let's be real, people who live in cities with accessible public transportation have it much easier. They deal with less congestion, pollution and can get around more efficiently. We're talking, of course, about the network of buses, trains and even trolleys that make some cities tick more smoothly.
In September 2019, WalletHub published a study evaluating America's public transit networks, ranking the best and worst American cities (more on the rankings in a second). But more importantly, the study looked at how public transportation impacts the way we live — and how it benefits where we live.
Why Public Transit Is Beneficial
"The purpose of our report is to find out where public transportation passengers fare better in terms of accessibility, convenience, safety and reliability," WalletHub analyst Jill Gonzalez says via email. "And with Americans taking nearly 10 billion trips on public transportation each year, it's certainly a topic worth discussing. These rankings inform commuters of the current situation and quality of the public transportation system in each of the cities analyzed."
Gonzalez says public transit networks help city's economic growth, and offer other benefits, as well. For instance, taking public transit can be more affordable than car ownership; it helps reduce pollution; and can lower the likelihood you're injured in a car crash. The study also cites data from the American Public Transportation Association that shows every $1 invested in public transit generates $4 in benefits to the economy.
This is a lot of talk about public transit making a city livable, but what, exactly, does that mean? Let's go back to a statistic mentioned above, the four-to-one return on investment in public transportation.
"In the long term, every billion dollars in transit spending produces $3.7 billion in economic impact," Chad Chitwood, spokesman for the American Public Transportation Association, says via email. "This is a combination of spending from wages paid to transit employees, spending in the economy, as well as productivity impacts of expanded public transportation service, so that would be travel, lodging, transportation, business productivity from being closer to public transit, having access to broader labor markets, regional business growth, and clustering of businesses because communities can get there easier."
In other words, according to the American Public Transportation Association's economic impact report, investing in public transit is a solid way to help develop a robust, thriving city.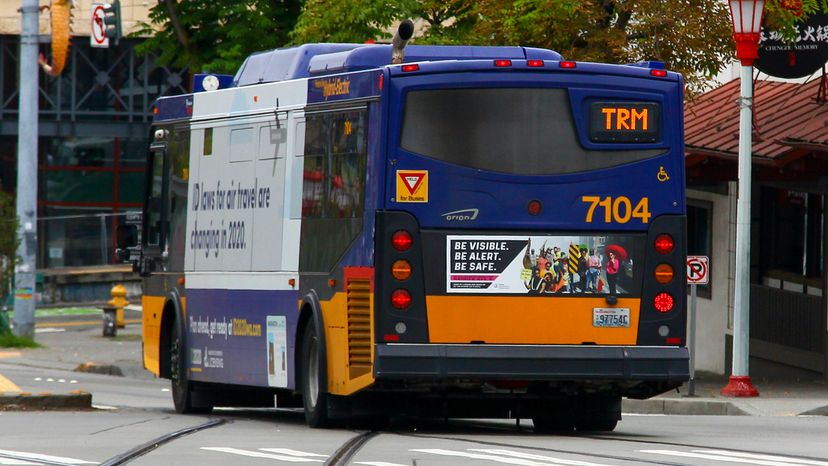 Many of Seattle's RapidRide buses are electric and feature fiber-optic technology that runs the entire length of the route so the bus has continuous wireless coverage.
Charles Cortes/Seattle Department of Transportation
How the Cities Rank
Now to those rankings. The WalletHub study included 100 cities, which were measured across 17 metrics in three key areas of accessibility and convenience, safety and reliability, and resources. These metrics were weighted, since WalletHub doesn't consider them all to be of equal importance.
It's a long list of factors, including average commute time for transit users, how that commute time compares to the time of those who commute by vehicle, percentage of jobs in proximity to the transit network, transit cost as a percentage of users' household income, airport accessibility, incidences of security issues, how much of the city is accessible by the transit network, and whether or not transit users actually prefer that type of commute. The city is evaluated based on the public transportation network within its official boundaries, and nearby metro areas are excluded.
Cities with the Best Public Transportation
Seattle

Boston

San Francisco

Washington, D.C.

Madison, Wisconsin
Cities with the Worst Public Transportation
New Orleans

Charlotte, North Carolina

Tampa, Florida

St. Petersburg, Florida

Indianapolis, Indiana
Of course, it didn't take long after publication for WalletHub's online comments section to fill up with readers who took certain cities' rankings a little too personally. That's where WalletHub's study methodology comes in.
"The methodology was developed by WalletHub analysts in conjunction with academic experts. The metrics were chosen based on their relevance, as well as availability of data," Gonzalez explains. "This is a study, not a survey, so only objective data points, rather than opinions, were included. Our analysis is based on data from mostly government-backed sources, such as the census bureau, the American Public Transportation Association, and the Federal Transit Administration.
"Everyone lives in a bubble," Gonzalez says. "If you've only commuted in one city, you probably think it has the worst transportation. It can be eye-opening to realize that you might have it better than residents in other cities, or of course, vice versa."
When it comes to evaluating different cities' public transit networks, Chitwood suggests that a one-size-fits-all approach might not necessarily be helpful. "Transit is different in a lot of different communities and how people implement their positions on transit is going to be unique to their community and to their city," he says.
Gonzalez says that, regardless of a city's current study ranking, the information is useful for everyone.
"Cities can now have a better understanding of their public transport situation, and what they can do to improve it," Gonzalez says. "These rankings should help cities see what their strengths and weaknesses are, so that they may provide their residents with accessible and reliable transportation during their daily commutes."