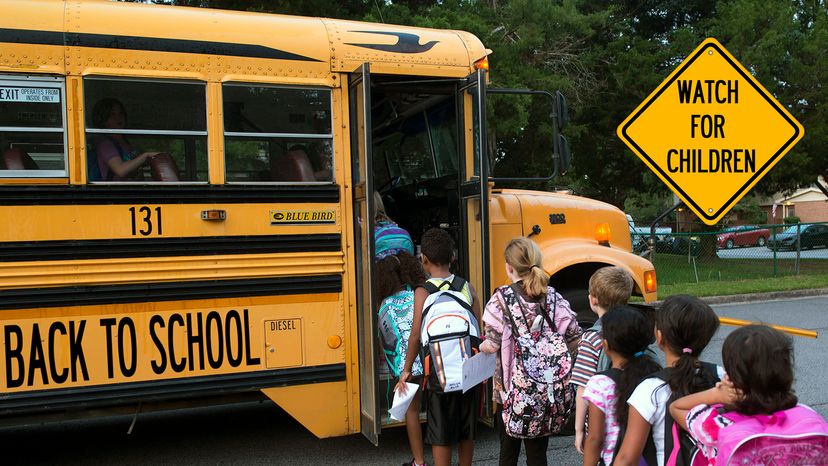 In general, parents and lawmakers alike seem pretty content to let children hop on school buses every day without giving much thought to the fact that those same kids would be firmly buckled up if they were riding in a car. In fact, for many of the younger, smaller kids, regular seat belts wouldn't even be sufficient in a car. They'd have to have the additional protection of a car seat or booster seat.
So why this disparity when it comes to school bus safety? Who decided that school buses don't need seat belts, and is it even true?
The National Highway Traffic Safety Administration (NHTSA), which tracks traffic and safety data, is one organization that has historically advocated that seat belts aren't necessary on school buses, because, the organization says, the school bus is the safest vehicle on the road (more on its current stance in a second). The NHTSA points to data showing that in a 10-year span, from 2008 to 2017, just 1,241 were people killed in school transportation-related crashes in the U.S. — 264 of those were school-age children.
Today's school buses have been designed for better crash and rollover protection. They protect kids through "compartmentalization," which means spacing seats close together, as well as using seats with high, energy-absorbing backs to prevent children from being tossed around in a collision.
School buses also are highly visible and have safety features like red flashing red lights, cross-view mirrors and stop-sign arms. Drivers stay on carefully planned routes and maintain slow speeds, so seat belts aren't needed. That's the thought, anyway.
Unfortunately, though, deadly school bus crashes happen. Such was the case in November 2016 when a crash in Chattanooga, Tennessee killed six elementary school students. After another deadly school bus crash in May 2018 in Morris County, New Jersey, killed two, including a child, and injured 43 others, the National Transportation Safety Board (NTSB) opened a full investigation into school bus safety.
The NTSB's report concluded that "to provide the best protection for all occupants of large school buses ... the remaining step is for each state to require the installation of lap/shoulder belts in all new large school buses." That came after NHTSA Administrator Mark Rosekind in 2015 publicly reversed its longstanding position, and began advocating for three-point belts on every school bus.
But today seat belts are only federally mandated on small school buses, or those weighing 10,000 pounds (4,535 kilograms) or less. States are allowed to decide whether to mandate them by law on the rest of school buses. Currently only eight states — Arkansas, California, Florida, Louisiana, Nevada, New Jersey, New York and Texas — have laws requiring seat belts on large school buses, though many others are considering similar legislation.
The number of lives that could be saved every year wouldn't be huge, and some opponents say adding belts is simply not worth the cost, which is estimated to be between $7,000 and $11,000 per bus.
Since most school buses are on the road for at least 10 and often up to 20 years, it's unlikely school districts would choose to retrofit older buses at that cost, which means it would potentially take decades for new legislation requiring seat belts to take effect across a fleet as new buses slowly replace older ones.
As for now, it's unclear whether federal standards will change, but states are still free to set tougher restrictions as they see fit. Parents may take some comfort in knowing that school buses are the most regulated vehicles on the road, and as a result, students riding them to school are statistically about 70 times safer than they would be traveling to school by car.