Buick in the 1950s was as flashy and gutsy as any American cars of the era. The 1957-1958 Buicks marked several "lasts" for the Flint, Michigan, make: the end of series names dating back to 1936, the final appearance of the Dynaflow label on automatic transmissions, and the end of Buick's brief ascendancy as America's third best-selling car.

A complete restyle and new models like the Century
Caballero wagon were part of the 1957 Buick line.
See more pictures of Buicks.
Some factors beyond Buick's control influenced these developments; others can be traced directly to the cars themselves, which went through one of the industry's most startling restyles in these years.

In planning its 1957 models in late 1954 and 1955, General Motors found itself in an odd position. Since the presidency of Alfred E. Sloan in the 1920s, General Motors makes had been arrayed with strict price demarcations that followed a set hierarchy.
From rags to riches, you started with a Chevrolet, moved up to Pontiac, then Oldsmobile, Buick, and finally -- if the American dream came true -- to Cadillac. Sloan's make-by-make "ladder" worked well for 30 years and became the standard on which Ford and Chrysler based their own sales strategies.
But the strategy had become obsolete by the middle 1950s. A decade of postwar prosperity, the increasing mobility of Americans moving from cities to suburbs, and a vast road-building program spearheaded by President Eisenhower's Interstate highway system created not only two- and three-car families, but families whose cars were in daily use.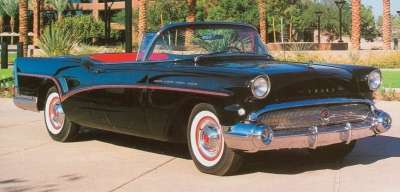 Top-line 1957 Buick Roadmasters like the $4,066
convertible had four tacked-on "VentiPorts."
Multi-car ownership led to specialized models: personal-luxury cars like the Cadillac Eldorado; compacts like the Nash Rambler; car-based pickup trucks like Ford's Ranchero; hardtop convertibles with two and, later, four doors; utility vehicles like Chevrolet's Suburban; and, of course, the ubiquitous station wagon, that rolling symbol of 1950s American affluence.
Each manufacturer strove to exploit the market for these new vehicle types; as they did, the models within each make blossomed. When car production resumed after World War II, Ford offered five body styles in just two series; for 1957 it had 11 body styles in nine series.
Buick traditionally ranked just below Cadillac in the General Motors size-and-price hierarchy, but that did not accurately reflect its broad popularity. Buick usually outsold all General Motors divisions except Chevrolet.
Flint offered a wider spread of models and prices than its sister divisions, often aggressively chipping into Oldsmobile's price territory and occasionally into Cadillac's. Also, Buick was quicker than most makes in issuing new model variations.
The 1957 Buick Roadmaster 75 was a new half-step-
up series in four- and two-door hardtop styles.
It was among the first in Detroit to catalogue a station wagon (1940 Super), a hardtop convertible (1949 Riviera), a personal-luxury car (1953 Skylark), hardtop sedans (1955 Special and Century) and hardtop wagons (1957 Caballero and Riviera Estate).
Though Flint never built a production sports car or commercial vehicle, it created more varieties of the passenger cars Americans wanted than any other General Motors division, certainly more than any Ford or Chrysler make.
The 1957 model year marked a major redesign for Buick models. For more on the 1957 Buick lineup, continue on to the next page.

For more information on cars, see: