For 1940, Cadillac replaced the Series Sixty-One with the longer 129-inch-wheelbase Series Sixty-Two. Though the Sixty-Two wasn't really intended for custom coachwork, a relatively new firm -- Bohman & Schwartz -- found it an extremely appealing base on which to create a dashing 1940 Cadillac Custom convertible.
The 1940 Cadillac Custom convertible was wider, lower, and rounder, and its main claim to fame was its modern, curvaceous "torpedo" styling. It sported a diecast grille with bolder horizontal bars and less prominent "catwalk" grilles. Twin vents graced each side of the hood, and Cadillac script graced the bumpers. Larger taillights rode up back.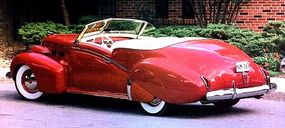 Bohman & Schwartz worked their magic on two Cadillac Series Sixty-Two coupes -- not convertibles -- by mildly sectioning the body and fabricating a lower cast bronze windshield frame. The tops of the doors dipped gracefully downward before rejoining the beltline.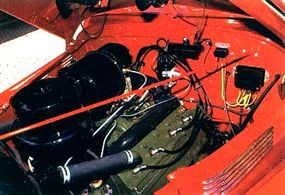 A chrome strip ran from the headlights, paralleling the dip, down to the rear fender, while the top of the gravel shield and special fender skirts completed the arc. The swept line divided two very subtly different shades of maroon.
Bucket seats were a forward-looking feature. The dash was mainly stock, and so was the 135-horsepower, 346-cubic-inch V-8.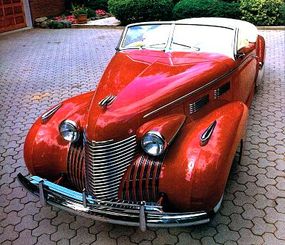 The other B&S Cadillac Custom Convertible dropped out of sight in the early 1950s, but the 1940 Cadillac Custom Convertible featured in this article is now owned by Terry Radey of Toronto, Ontario. It received a ground-up restoration in 1990 and won a best in class award at the prestigious Meadowbrook Concours in 1991. It's easy to see why!
For more information on cars, see:
Classic Cars

Consumer Guide New Car Search

Consumer Guide Used Car Search