Buick had a record year in 1940, thanks partly to the 1940 Buick Special Convertible Sedan. The company turned out 283,204 of that model year's cars and set the stage for even better results the following year. Its products were reliable, dynamic, and glamorous. This was an amazing turn of events for a manufacturer that had made fewer than 47,000 cars as recently as 1933 and was rumored to be on the chopping block at General Motors. Here is more on Harlow Curtice and the 1940 Buick Special Convertible Sedan.
Curtice was just 40 when he was approached to give up the presidency of sparkplug manufacturer AC and tackle Buick's problems. Soon after taking over as division president in October 1933, he set his sights on creating a new lower-priced line in hopes of winning over scarce Depression-era customers. The Series 40 was raced to market by May 1934.
Featuring a Fisher body shared with Chevrolet, its own 233-cid version of the ohv Buick straight-eight engine, and prices nearly $300 below that of the next Buick up the cost ladder, the Series 40 was a solid hit in its introductory year.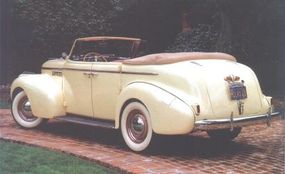 As overall Buick sales rose through the remainder of the 1930s, they were pushed along by the Series 40, which gained the name Special in 1936. For 1939, production of Specials hit 175,568 and accounted for 84 percent of all that year's Buicks.
Specials were buoyed by handsome new styling at regular intervals. There were engineering improvements, too. The engine was enlarged to 248 cid in 1937, when it made 100 horsepower. The following year saw all Buicks adopt an all-coil-spring suspension, an industry first.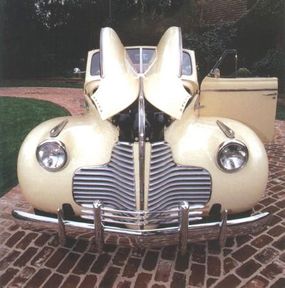 Ironically, the Special had a little less to do with Buick's great market performance in 1940 than it had in prior years. Series production dropped to 117,355, but some sales had to have been lost to the newly introduced Series 50 Super, which successfully combined the looks of the big Roadmaster with the Special chassis.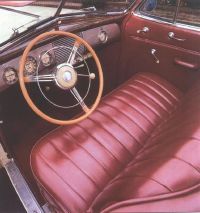 Buick styling consisted of a bolder, more upright nose than that seen in 1939. New sealed-beam headlamps were more integrated into the front fenders. Engine-turned metal panels were added to brighten up the dash. The Special's wheel-base was lengthened an inch to 121. Its "Dynaflash" engine with "tabulator" pistons made 107 horsepower, as it had since 1938.
A four-door convertible joined the Special line for 1937, but the stylish body type made its last appearance as a Series 40 car in 1940. The convertible sedan featured here is one of just 552 built for domestic sale; another 45 went to export markets. At $1,355, it was by far the most expensive Special. Among its accessories are a radio and front and rear heaters.