The1941 Chevrolet Series AG Sedan Delivery and Coupe Pickup combined passenger-car styling and comfort with the utility of a light-duty panel truck. The concept actually dated back to 1928, when the legendary Harley Earl first began designing Chevrolets.
Classic Truck Image Gallery
In 1941, it was a perfect companion to the 1941 Chevy car line -- a beautiful redesign, which many felt made arch-rival Ford look like a plowhorse.
Like the passenger cars, the 1941 Chevrolet Sedan Delivery and its 1941 Chevrolet Coupe Pickup cousin (with a little pickup bed replacing the trunk) used a higher-compression 216.5-cubic-inch six, developing 90 horsepower.
A new carburetor was designed to prevent engine stalling during sudden stops, an annoying -- and potentially dangerous -- habit of certain earlier Chevys. A larger radiator core and new double-outlet water pump eased cooling, while a higher-capacity coil and condenser promoted quick starts.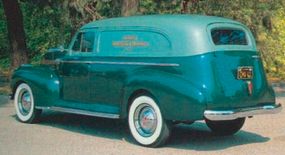 Hydraulic brakes and an independent frontsuspension were just some of the features ofthe 1941 Chevrolet Series AG Sedan Delivery.
In short, a fine machine in 1940 had been made even better for 1941. It's worthwhile to compare this vehicle to the 1928 Chevrolet pickup. In that 13-year period, wheelbase had grown nine inches, length nearly 40 inches, weight rose 600 pounds, horsepower 55 -- with two cylinders added.
Yet the 1941 Chevrolet Series AG Sedan Delivery and pickup cost only about $60 more than their 1928 counterparts. (Of course, these Depression years weren't noted for inflation: the first-class postal rate, two cents in 1928, rose to a mere three cents in 1941.)
A host of mechanical improvements had come during the prior decade, including hydraulic brakes, synchromesh transmission, no-draft ventilation, double-acting shock absorbers, independent front suspension, and vacuum-assisted gearshift.
Note that the 1941 Chevrolet Series AG Sedan Delivery shown here has been upgraded with a comfortably padded bench seat (thin, separate seats were original), stainless steel windshield moldings and hood vents, wood-grained dash, and wind-up clock -- all features of the up-market Special DeLuxe passenger cars.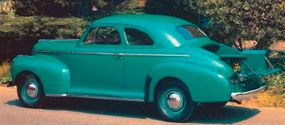 The bed of the 1941 Chevrolet Series AG CoupePickup could be replaced by a regular trunklid,converting the vehicle to a conventional coupe.
Also, its cargo area and cab floor have been carpeted. The 9918 examples built in 1941 were normally trimmed to more spartan Master DeLuxe specs.
Collectible Pluses of the 1941 Chevrolet AG Sedan Delivery and Coupe Pickup
Really fine, Buick-like styling

Handsome die-cast grille

Excellent performance for a six

Strong collector and club support
Collectible Minuses of the 1941 Chevrolet AG Sedan Delivery and Coupe Pickup
Relatively expensive (Sedan Delivery)

Hard to find
For more great articles and pictures on new and classic trucks, see:
Consumer Guide Auto Reviews and Prices