During the Thirties, one automaker after another followed Ford's lead and added factory-cataloged station wagons to their lineups. It probably surprised no one that the 1939 Chevrolets would be among those that adopted the then-costly and fairly rare body style. What might have seemed curious, though, was how long it took: Chevy entered the field in 1939, two years after Pontiac -- which sold in lower numbers -- pioneered the style among General Motors products.
When Chevrolet finally did enter the station wagon market, it jumped in with both feet. It offered the eight-passenger vehicle in both the Master 85 series (with beam-axle front suspension) and the Master DeLuxe series (with coil-spring independent "Knee-Action" front suspension).
At respective starting prices of $848 and $883, they were the priciest cars in the '39 Chevy line. Model-year output came to 430 Master 85s -- divided between folding end gate and rear-door versions -- and 989 Master DeLuxes. Station wagons were built on the same 112.25-inch-wheelbase chassis as other '39 Chevrolets and were powered by the same 216.5-cid, 85-bhp ohv six-cylinder engine. They shared the year's new front sheet-metal, including headlamps that rested on the fender "catwalks" and small horizontal auxiliary grilles.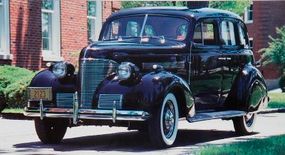 Though station wagons now had the division's full blessing, construction of the wood body components and their assembly was contracted to several firms. Chris Messano, who restored the '39 Master DeLuxe featured here, had to copy the remnants of body parts to make a replica of its Campbell body.
The large panels are made of birch; framing is of ash. The proprietor of Chris Messano Woodworks in the Los Angeles area, he needed two years to complete the restoration after purchasing the formerly run-down wagon in Redwood City, California, in 1999.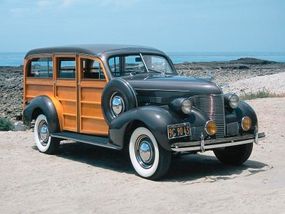 Messano said that the badly weathered original body sections at least gave him something to copy. The specialized station wagon hardware and much of the sheetmetal were salvageable, but a sedan served as the donor for a number of body and mechanical parts, including the engine. The hood, cowl, fenders, and windshield frame were sprayed Wood Ash Brown, Chevy's standard station wagon color in 1939.
The car, which Messano sold at the 2003 Pebble Beach Concours d'Ele­gance, featured a number of period Chevrolet accessories, starting with fog lamps and a winged hood ornament. While a fender-mounted spare tire was standard on '39 wagons, the metal cover was not. Neither were the whitewall tires or bright wheel-trim rings. The interior sported a deluxe steering wheel, in-dash clock, and heater.
For more information on cars, see:
Classic Cars

Consumer Guide New Car Search

Consumer Guide Used Car Search