Thank goodness for the 1937 International C-1 Pickup. Like virtually the rest of American industry, International Harvester Company was in dire straits during the Great Depression of the early 1930s. Consider that in 1929 the company produced more than 50,000 trucks, but by 1932, that total was down to about 17,400.
One strategy IH adopted to increase sales in those dark days was to enter the light-duty market -- a strategy that would ultimately produce the successful 1937 International C-1 Pickup.
The pressures of time and tight money worked against creating a new design from scratch. The answer came from Willys-Overland. In very unstable financial condition and eager to increase sales of its light trucks, Willys manufactured a modified version of its 1/2-ton C-113 pickup and panel trucks that International marketed as the D-1. Though built in Willys' Toledo, Ohio, plant, the D-1 sported its own radiator and hood styling and used a larger-displacement version of the C-113's six-cylinder engine.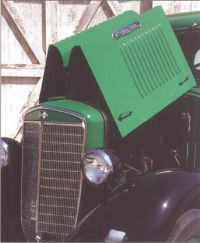 The D-1 served its intended purpose well. Thanks to its 12,200 units, calendar-year 1933 production of International trucks topped 30,100. But with Willys-Overland
now in receivership and its ability to meet International's needs uncertain, IH turned to a successor of its own design.
On the surface, the International C-1 Pickup was a completely new truck. Cab styling was more rounded at the corners, and the old-fashioned windshield visor of the D-1 was done away with. A vee'd aluminum grille with a body-color shell and more-enveloping fenders with skirts at their trailing edges were up-to-the-minute.
The 113-inch wheelbase, 213-cid six, and standard 4.18:1 axle ratio of the D-1 were retained for the new truck, but there were significant mechanical changes to distinguish the C-1 from its predecessor.
A longer 125-inch-wheelbase version of the chassis was added. The propeller shaft gained roller-bearing joints, steering and brake components were enhanced, and there were stronger springs with redesigned shackles. The frame rails were made a half-inch deeper than those used on the D-1.
Though displacement of the undersquare engine (3.31-inch bore by 4.13-inch stroke) was unaltered, output was increased to 78 horsepower at 3,600 rpm, compared to 70 at 3,400 as developed in the D-1. The compression ratio of the C-1 engine stood at 6.3:1.
Aside from the horsepower boost, the engine benefited from improved ignition wiring. An L-head design with four main bearings, it used a cast-iron block and solid valve lifters and breathed through a single-throat downdraft carburetor. The engine worked through a three-speed manual transmission activated by a floor-mounted lever.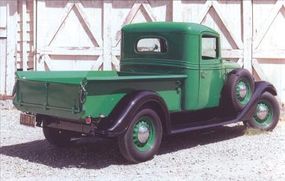 C-1s were produced by IH at its plants in Springfield, Ohio, and Chatham, Ontario, Canada (though the engines were manufactured by the Wilson Foundry & Machine Company, of Pontiac, Michigan). Aside from short-and long-bed pickups, factory-supplied bodies included panel, open-side, and screen-side deliveries. Chassis/cowl units were available, too, and International cataloged a "woody" station wagon with bodies supplied by outside firms.
IH considered its factory-authorized body variations to be options, so most stated prices are for the basic chassis/cowl. But the Standard Catalog of American Light Duty Trucks cites a 1934 price of $545 for a short-wheelbase pickup, which would have been $100 more than the chassis alone. The 125-inch chassis cost $25 more than its shorter counterpart.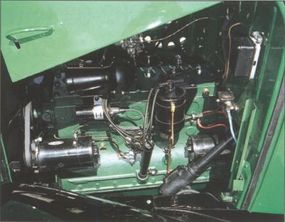 Apart from the arrival of hydraulic brakes in February 1936, the C-1 was produced with little change until April 1937, when it was superseded by the D-2 series. In its three-year run, C-1 production came to 76,820 vehicles.
The light-duty truck line proved to be a substantial part of IH's business; in 1936, when production edged past 100,000 -- quite a jump from dismal 1932 -- nearly a third of that total consisted of C-1s. All the while, International was able to hold third place among American truck producers.
The long-wheelbase pickup pictured here is one of the 6,639 C-1s built in 1937 (274 of which came from the Canadian plant). It features 18-inch steel-spoke wheels (though wire wheels were also available) and an extra-cost right-side taillight.