Howard A. "Dutch" Darrin, the man behind the 1937-1942 Packard Darrin left an indelible imprint, not only on the automobile, but on the people he met in the old car movement, long after his career building and designing cars had ended.
Dutch Darrin was a kind of "breakaway designer." He was crusty, hardbitten and had no reticence about expressing his opinions. He had flashing blue eyes, snowy white hair in later life, a bubbling enthusiasm for what he liked, a withering contempt for what he didn't. Interviewing and reporting on Dutch was a test of a writer's finesse: the art of balancing Darrin's fierce convictions with the opinions of others who sometimes saw matters in quite a different way.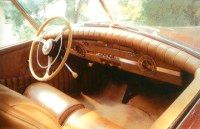 You can't please all of the people all of the time, and occasionally a journalist would credit the wrong designer. Do this with Brooks Stevens and he'd send an elegant and polite correction by mail; do it with Raymond Loewy and he'd threaten to sue; do it with Dutch and he'd telephone: "I disagree with your conclusions and will not have my name attached to them. Goodbye." Come to think of it, he did the same thing at Kaiser-Frazer, when he took umbrage at something they'd done to alter his design for the 1951 Kaiser -- so in 1952, off came the little chrome "Darrin Styled" nameplate, which Dutch had insisted they put on in the first place!
He had an automotive curriculum vitae that put to shame most of his design contemporaries. Starting in the Teens as a Westinghouse engineer, he invented an electric gearshift for John North Willys, deciding then and there to spend his career on cars instead of electronics. When he went to France with the American Expeditionary Forces in World War I, he fell in love with Paris.
In 1920 he founded America's first scheduled airline, Aero Ltd., but he soon returned to Paris and set himself up as a custom coachbuilder, initially using the Minerva chassis. He was shortly building custom bodies for the cream of European society, working on his own or in successful partnership with designer Tom Hibbard and, later, a banker named Fernandez.
To continue reading about Dutch Darrin's fiery personality and history in the auto industry, turn to the next page.
For more information on cars, see:
Classic Cars

Consumer Guide New Car Search

Consumer Guide Used Car Search