The 1954 Packard Panther Convertible was produced as a concept car with muscle. Packard also designed the Panther with then-revolutionary materials in mind.
Chevrolet wasn't the only major automaker tinkering with the use of glass-reinforced plastic (GRP) in auto bodies in the 1950s. Packard -- which had considered using this then-revolutionary material as early as 1941, primarily as a means of continuing auto production in the face of wartime steel shortages -- was dabbling in the field, too.
In 1953, the company again considered using the material and decided to build a two-seat convertible sports car with a GRP body.
Packard's chief stylist, Richard A. Teague, was given the task of hastily styling the car. No time was allowed for him to construct a full-size mock-up, so management approved his design directly from a small one-sided model.
A running version was completed in 1954, using the 127-inch wheelbase Cavalier chassis and the metal floorpan common to all Packards of that year.
It was originally to be called "Grey Wolf II," after Packard's famed 1903 race car. But upper management didn't like the name's connotation, so "Panther" was chosen instead.

To lend its massive "sports car" some performance credentials, Packard gave the Panther a 359-cubic inch straight eight, the biggest engine available. The first two cars got McCulloch centrifugal superchargers, boosting the engine's output to 275 horsepower.
Despite the car's rather generous dimensions, it actually performed well, at least in a straight line. With no major modifications other than a small racing windshield, Panther Number 2 went 131.1 mph at Daytona Beach, Florida, an unofficial class record.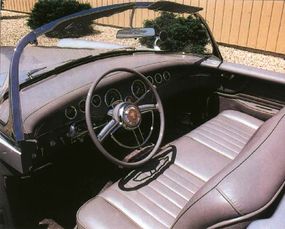 But ultimately, the Panther was overshadowed by Packard's many other woes, relegating the car to a sidebar in the last chapter of the venerable company's history.
Only four Panthers were made, all of them essentially hand-built prototypes. Packard never seriously considered putting the car into production, despite heavy lobbying by one of its distributors.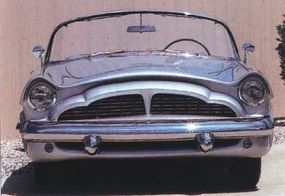 Today people's opinions of the Panther seem to be mixed. Packard enthusiasts will generally admit that the front end is not particularly elegant but consider the rest of the car sleek and interesting.
Designer Richard Teague wasn't so kind. In 1986, he said of the Panther, "I can't stand it. But then, I didn't like anything I did."
All four Panthers are believed to still exist. The silver example shown here is the first one. It is owned by the Mitchell Corporation of Owosso, which finished the bodies and interiors for the Panthers. The car, bearing added Mitchell nameplates, is currently housed in the company's private museum in Owosso, Michigan.