The machines produced by Louis Delage, including the 1933 Delage D8S Sports Coupe, exuded tasteful flair and quality.
Born in 1874 at Cognac, France, he was a graduate in engineering from the respected School of Mechanical Arts in Angers. After two years as chief draftsman for Peugeot, Delage started his own carmaking firm in 1905, prototypes rolling from a barn containing four lathes, a drill press, and a milling machine.
A trio of Delages with single-cylinder De Dion engines were displayed at the Paris Auto Show in December 1905. They garnered accolades from a leading auto writer, prompting an investor to loan Delage 150,000 francs, providing his son be given a job.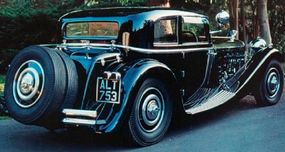 By 1912, 350 employees turned out 1,000 cars with reputations enhanced by racing success. Delages came in first and third at the 1911 Boulogne race, won the 1913 Grand Prix at Le Mans, and captured the 1914 Indianapolis 500. Profits led to a new factory at Courbevoie (in time to produce munitions for World War I) and enabled Delage to adopt the genteel lifestyle of his customers; a chateau at Le Pecq, a villa at Saint-Briac, a town house in Paris (where he maintained a showroom), and a yacht, L'Oasis.
A 10.6-liter Delage V-12 set the world land speed record in 1923 at 143.309 mph, and the jewel-like 1.5-liter dohc supercharged straight eights won every major 1927 Grand Prix race. The first of Delage's 4.0-liter, 105-horsepower ohv straight-eight passenger cars debuted at the 1929 Paris Salon. If less exotic than the GP engines, the D8/S had the low-rev torque to launch two tons of Gallic luxe over European roads.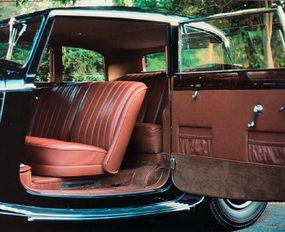 Barker, C apron, Figoni, Fernandez et Darrin, Labourdette, Letourneur et Marchand, Pourtout, Saoutchik, Vanden Plas, and other coachbuilders cloaked low-slung Delages. But none were slinkier than this Freestone & Webb 1933 D8S (Sport) coupe. Jacques Harguindeguy veteran Northern California collector of classic luxury and sporting cars, had just shepherded the rakishly elegant grande routiere home from the Oakland docks in 1997 when these views were shot.
The well-crafted coupe stands only 59 inches high, gracefully complementing the 130-inch wheelbase. Drivers sit low in the sunken floor, their legs nearly straight as in a sports car. The back seat is intimate, but two couples and judiciously selected luggage can be accommodated.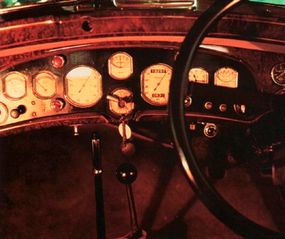 The richly veneered dash holds Jaeger gauges for oil temperature, oil pressure, amps, fuel, and a 4,000-rpm tachometer. But water temperature is registered by the Boyce MotoMeter that sits six feet away on the radiator. With Marchal headlights one foot in diameter, 7.00x18 tires, pleasing proportions, a compact yet comfortable cabin, a dropped frame, and firm semi-elliptic springs fore and aft, the 120-horsepower aluminum-bodied D8S looks and handles like a smaller car.
Push the lever of the well-wrought four-speed gearbox into first, and with a throaty rasp from the big, single-barrel Smith-Barraquand carburetor, the long, low automobile laughs at the years.