The Ford Mustang: It's a name that carries a lot of respect. Combine it with the name of legendary car designer Carroll Shelby, and you've got the makings of a truly great American car. The Ford Shelby Mustang GT500 isn't just another souped-up Mustang -- it's the most powerful Mustang to ever roll off a factory production line.
In this article, we'll find out what sets the GT500 apart from other Mustangs.
The Ford Shelby Mustang GT500 is a car that follows a distinctly American approach to high-performance -- give it lots of horsepower and then get out of the way. There are some important differences between the GT500 and the "plain" 2005 Ford Mustang. The 2005 Mustang sports a 4.0-liter SOHC (single overhead cam) V6, which puts out 210 horsepower, and the GT version comes with a V8 capable of 300 horsepower. The GT500 is rated at 500 horsepower.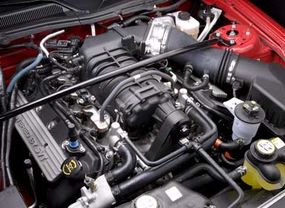 It all starts with a 5.4-liter DOHC (dual overhead cam) V8 engine made of cast iron, a powerplant first used in the limited edition Mustang Cobra R.
A screw-type supercharger with an air-to-water intercooler, generating 9 pounds of boost, forces air into the cylinders, each of which has four valves. Many of the engine components, such as the aluminum piston heads and bearings, came from the development of the Ford GT. A T56 six-speed manual transmission is also part of the GT500's powertrain, but there's no technological innovation here. The T56 is a tried-and-true, race-proven transmission that is very capable of handling the V8's horsepower. The gearing is evenly spaced to allow the engine to use all of its torque to drive the rear wheels.
So what does all that hardware get you? According to Ford, the GT500 will generate 500 horsepower at 6,000 rpm and 480 lb-ft of torque at 4,500 rpm.
Next, we'll check out the GT500's suspension.