The name Ferrari brings many images to mind: a Formula One racer darting through the turns at Monte Carlo; vice cops chasing drug smugglers through the streets of Miami; ultra-rich drivers cruising winding roads in their six-figure trophy cars; the prancing stallion on a yellow background. The company itself is all about heritage and prestige. The Ferrari company has been involved with racing for more than 50 years, and has been producing road cars almost as long.
Every few years, the two facets of Ferrari combine, taking the high-tech, high-performance designs of Formula One (F1) and putting them into the ultimate dream car. The results have always been exotic, incredibly fast, and incredibly expensive. The latest Ferrari supercar is the Enzo Ferrari, named after the company's late founder.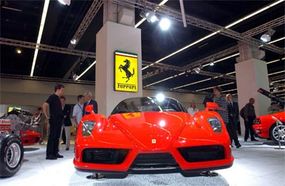 Enzo Ferrari built the company after splitting from Alfa Romeo in 1940, and the car that bears his name is focused purely on performance. Just being rich isn't enough to get yourself behind the wheel of the Enzo: Fewer than 400 were made, and prospective owners had to apply to Ferrari for the privilege of buying one. Oh, and don't say the name wrong: It's Enzo first, Ferrari second.
In this article, we'll learn how the Enzo was designed to emulate a Formula One car, what powers it, how fast it goes, and why it's so difficult to get one.
Let's start with the engine.