1959 Chevrolet Bel Air and Biscayne
The 1959 Chevrolet Biscayne sedan
featured wing-like fins and a long wheelbase.
Chevy's sales brochure for 1959 models, including the 1959 Chevrolet Bel Air and 1959 Chevrolet Biscayne, said it simply: "all new all over again." Totally restyled, flaunting dramatic horizontal fins, Chevrolets adopted a new 119-inch wheelbase -- longest in the low-priced field.
Thinner doors helped deliver five extra inches of interior space. Wide horizontal "nostrils" up front held the parking lights. Thin windshield and ultra-slim raked C-pillars freed hardtop bodies of blind spots. Compound-curve, wraparound windshields grew in size, boosting visibility.
The Delray series disappeared, replaced by Biscayne, promoted as "beauty on a budget." That move made Bel Air the mid-range line, offering a hardtop Sport Sedan and regular pillared sedan. Bel Airs sold best, followed by Impalas. Station wagons came in four series.
Engines were unchanged, as the "horsepower race" eased for the moment. Choices ranged from the new 135-horsepower Hi-Thrift 235 cubic inch six through a selection of 283- and 348-cubic inch V-8s. A fuel-injected rendition of the 283 again developed 290 horsepower, while the top 348 provided 315.
More than one-third of this year's cars carried six-cylinder engines. Five transmissions were available: Turboglide, Powerglide, four-speed, three-speed, or overdrive. Chevrolet ended the model year in the top spot again but led Ford by only a tiny margin this time.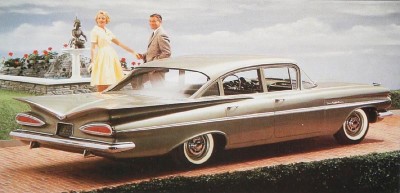 The 1959 Chevrolet Bel Air also sported
fins and a new wraparound windshield.
1959 Chevrolet Bel Air and Biscayne Facts
| | | | |
| --- | --- | --- | --- |
| Model | Weight range (lbs.) | Price range (new) | Number built |
| Biscayne | 3,480-3,605 | $2,160-$2,419 | 311,800 (approx.) |
| Bel Air | 3,510-3,660 | $2,386-$2,674 | 447,100 (approx.) |
| Station Wagon | 3,860-4,020 | $2,571-$3,009 | 214,400 (approx.) |
For more picture-packed articles about Chevys and other great cars, see:
Classic Cars: Learn about more than 400 of the world's finest classic and collectible automobiles.
Muscle Cars: Look back at tire-smoking Chevys and scores of other machines from the golden age of American high performance.
Sports Cars: Discover the pleasure of sports motoring at its purest in these captivating articles on the best sports cars from around the world.
Consumer Guide Automotive: Here's your source for news, reviews, prices, fuel-economy and safety information on today's cars, minivans, SUVs, and pickups.
Consumer Guide Used Car Search: In the market for a used Chevy or virtually any other pre-owned vehicle? Check out these reports, which include safety recalls and trouble spots.
How Chevrolet Works: Get the inside story of one of America's greatest automotive marques in this lavishly illustrated history of Chevrolet, beginning with its founding in 1911.