1958 Chevrolet Bel Air, Delray, and Biscayne
The entry-level 1958 Chevrolet Delray
still offered style to spare.
The 1958 Chevrolet Bel Air, 1958 Chevrolet Delray and 1958 Chevrolet Biscayne actually were better as well as bigger, if leaning more toward luxury than roadability. "Look Ma, no fins" could have been a slogan, as other makes heeded a trend toward wild rear ends.
Quad headlights followed yet another fashion. The "low, thrusting silhouette" was nine inches longer and five inches lower, on a wheelbase stretched 2.5 inches. As might be expected, the '58s were also heavier -- by 200 to 300 pounds.
A three-model Delray series displaced the One-Fifty, and Biscayne sedans edged aside the Two-Ten, while Bel Air/Impala topped the line. Nomads were now ordinary four-doors, so the only two-door wagon was the bottom-line Yeoman. Shoppers had five wagons to choose from.
Enlarged liftgates hinged into the roof and raised out of the way. Sedans featured slim door-pillar styling, and even a Delray wore plenty of brightwork. Newly optional Level-Air suspension was patterned after Cadillac's, with a rubber bellows at each wheel. Expensive and unreliable, it proved a short-lived fad.
For the first time, full-size cars could have a bigger, more potent engine than Corvettes. A low-budget Delray might carry the top 348 cubic inch big-block, or even a 283 fuelie. Styling cycles normally went three years, but the tasteful '58 body lasted only one season.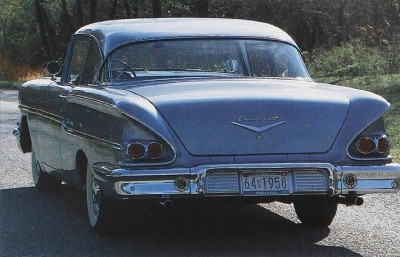 The 1958 Chevrolet Delray featured
dual exhausts and twin taillights.
1958 Chevrolet Bel Air, Delray, and Biscayne Facts
| | | | |
| --- | --- | --- | --- |
| Model | Weight range (lbs.) | Price range (new) | Number built |
| Delray | 3,156-3,442 | $2,013-$2,262 | 178,000 (approx.) |
| Biscayne | 3,404-3,450 | $2,236-$2,397 | 100,000 (approx.) |
| Bel Air | 3,424-3,514 | $2,386-$2,618 | 592,000 (approx.) |
| Station Wagon | 3,693-3,839 | $2,413-$2,835 | 187,063 |
For more picture-packed articles about Chevys and other great cars, see:
Classic Cars: Learn about more than 400 of the world's finest classic and collectible automobiles.
Muscle Cars: Look back at tire-smoking Chevys and scores of other machines from the golden age of American high performance.
Sports Cars: Discover the pleasure of sports motoring at its purest in these captivating articles on the best sports cars from around the world.
Consumer Guide Automotive: Here's your source for news, reviews, prices, fuel-economy and safety information on today's cars, minivans, SUVs, and pickups.
Consumer Guide Used Car Search: In the market for a used Chevy or virtually any other pre-owned vehicle? Check out these reports, which include safety recalls and trouble spots.
How Chevrolet Works: Get the inside story of one of America's greatest automotive marques in this lavishly illustrated history of Chevrolet, beginning with its founding in 1911.