In the automobile industry, there are certain companies with the reputation for creating the most luxurious cars in the world -- Mercedes-Benz, Jaguar, Lexus and BMW spring to mind. But it's a smaller circle of luxury automobile companies that set the benchmark for opulence -- like Maybach, Rolls-Royce, Aston Martin, Maserati and Bentley. In recent years, the Bentley in particular has emerged as a popular choice of car for the rich and famous.
The Bentley Motor Company, like Aston Martin and Rolls-Royce, is a historic British car company. W.O. Bentley built the first Bentley automobile in 1919. He was a race car enthusiast and thrill-seeker who wished to design and produce the world's best race car. He called his first effort the EXP1, a prototype race car with a 3-liter engine. Racing enthusiasts took notice of the car's superior performance.
Bentley's designs were very successful -- a Bentley automobile dominated the Le Mans races from 1927 to 1930. Bentleys came in first place in races across Europe, and soon a collection of race-car drivers known as the Bentley Boys became famous for taking home trophies.
The Bentley line of cars had many rivals -- perhaps the most notable was Rolls-Royce. While Bentley automobiles were known for speed and performance, Rolls-Royce cars were famous for elegance and sophistication. Both lines pushed automobile advances in Europe. The rivalry might have lasted indefinitely had it not been for the Great Depression. Bentley Motors became financially unstable, and Rolls-Royce Limited purchased the company in 1931. Gradually, Bentley automobiles began to resemble the styles of the Rolls-Royce cars. Some models even used the same chassis -- the same base frame -- as the Rolls-Royce Silver Cloud.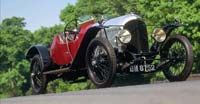 In 1998, Rolls-Royce sold Bentley Motors to Volkswagen (eventually BMW purchased Rolls-Royce, so two of England's beloved car lines are now owned by German companies). Production of the Bentley line remained in Crewe, England, where they've been building Bentleys since 1946. Today, Bentleys fill a niche between the Rolls-Royce cars, known for their style and elegance, and the Aston Martin cars, famous for their performance and speed.
In this article, we'll learn about Bentley customization options, the Bentley Bond and Bentley driving courses. In the next section, we'll look at the current Bentley models (or marques, as the Brits like to say).