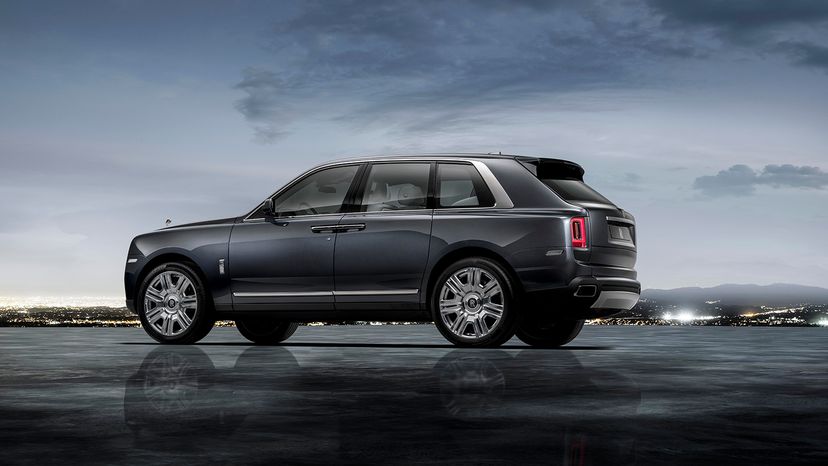 It sounds almost too cliché to say, but the Rolls-Royce of SUVs is finally here. The 2019 Rolls-Royce Cullinan — it was previously just a concept car — was formally unveiled in London on May 10. And like you'd expect from a Rolls-Royce, it's turning heads — and even shaking up the SUV category, in name anyway.
When the Cullinan was first revealed, Rolls-Royce insisted on calling it anything other than SUV. Descriptions like "high-bodied all-terrain car" floated around. The company hoped to avoid pigeon-holing the Cullinan into the SUV category, explains Gerry Spahn, the head of communications at Rolls-Royce Motor Cars.
"When we first confirmed the project, we did shy away. We did not want to call it an SUV," Spahn says. "There's nothing sporty and nothing utility about Rolls-Royce. We didn't want people comparing it to SUVs that are in the market today. Categorically, it does enter into the SUV market, albeit at a level that no one else is at. So, we're fine with you calling it an SUV now."
And about that name: It was christened Cullinan for the largest diamond on Earth, now part of the British Crown Jewels. And like that diamond, the SUV also makes its mark in several ways. It's the first Rolls-Royce with a hatchback, touch screens and all-wheel drive. And of course it features the traditional Spirit of Ecstasy hood ornament.
Like Spahn explained, the Cullinan sets itself apart from other SUVs with an array of custom options. Let's take a closer look at the specifications and features.
The Cullinan's powertrain comes from the Rolls-Royce Phantom, and consists of a twin-turbocharged 6.75-liter V-12 engine with an eight-speed automatic transmission, rated for 563 horsepower, 627 pound-feet of torque, and a top speed of 155 mph.
The Cullinan rides on 22-inch wheels and the all-wheel drive system, which can shift up to 90 percent of available torque to the rear wheels, will enable off-road travel. An air suspension system provides variable ride height and uses a camera to adjust on-the-fly to prevent passengers from enduring any discomfort from bumpy roads. The Cullinan can ford water up to 21 inches (53 centimeters) deep. It is more than 8 inches longer (20 centimeters) and 3.6 inches (9 centimeters) taller than Bentley Bentayga, its closest competitor.
The interior appointments are as upscale as you can imagine, especially considering the Cullinan's base price of $325,000. Options and features include:
Glass partition separates the cargo area from the passenger area

Power-folding tables

Refrigerator and high-end barware in the center console

Wireless charging and five USB ports

Suicide-style doors

Luxury Italian leather throughout

Custom "recreation modules"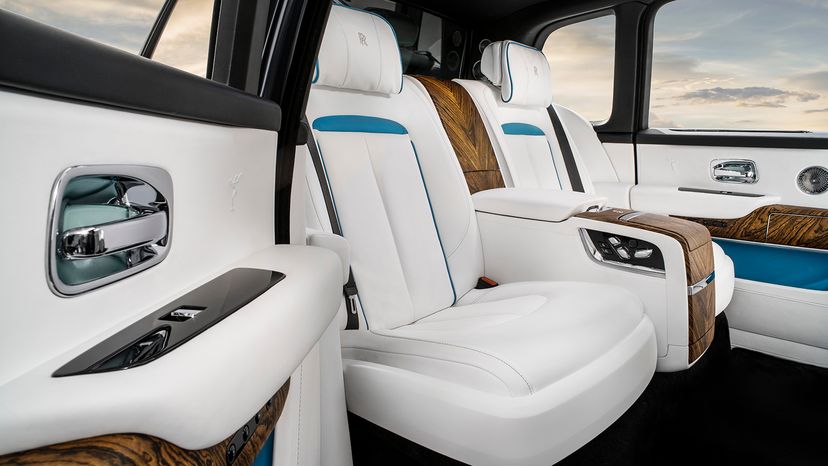 About 96 percent of Rolls-Royce cars are sold with bespoke options, such as custom colors and upholstery, and the new recreation modules are the company's latest way of making each customer feel extra special. These modules clip into the hatch floor and contain, well, almost anything a Rolls-Royce customer can dream up. The company teases the "Viewing Suite" module, which features two seats and a table for fancy tailgating, but has also mentioned modules built specifically for BASE jumping, drone racing and falconry. Yes, falconry.
"We like to throw out ideas just to provoke and tease our customers' imagination, and then they come to us and we can make it however they'd like," Spahn says. "We haven't begun building yet but we have people already asking us what we can do. As long as it technically fits and it's within regulations, we'll do it. If you wanted a module for your kid's toys, we can bespoke that for you."
Rolls-Royce is now taking orders for the Cullinan, though the company hasn't yet started working on bespoke options for the first orders. Expect to pay at least $20,000, and likely much more, for each recreation module. The first Cullinan models off the line will be delivered in early 2019.