The 1956 Buick Special Riviera Coupe is a car that teaches a valuable lesson: Don't forget lesser versions of a prime collectible.
In the case of mid- to late-1950s Buicks, collector interest has usually centered on the Century models, which combined the smaller Buick body with the more powerful engines from the bigger Super and Roadmaster series.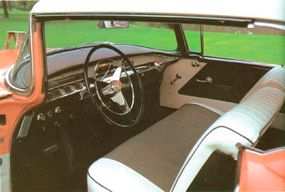 An attractive Custom Deluxe upholstery optionwas offered on the 1956 Special.
This has left the less expensive Special offerings largely ignored, even though they have exactly the same desirable qualities except for maximum rated horsepower and, therefore, performance.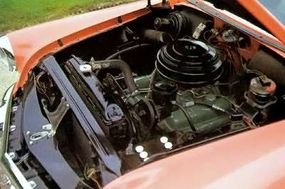 A look under the hood reveals the Buick SpecialRiviera coupe's engine.
But there is a happy bonus: the Specials sell for much less than equivalent Centurys on today's market, and this makes them worthy collectibles for those on a more restricted budget.
Price has not been a big worry for Tom Lorek of Elmhurst, Illinois, who has invested some $7,500-$8,000 to make this 1956 Special Riviera hardtop coupe a three-time winner in class at national Buick club meets.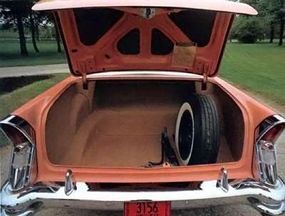 The large trunk offered plenty of storage space.
Though some 114,000 of this one model were built, Lorek says finding parts is more difficult and costly for all junior Buicks, perhaps because more of them have been wrecked over the years than the senior cars.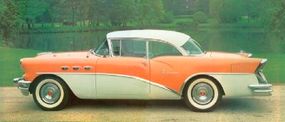 The Special featured dual exhausts, an electric clock, fullwheel covers, and an optional "Sonomatic" radio.
Two of his main problems were the specific rear bumper for the car's dual exhausts and the matching door panels for its fairly rare Custom Deluxe upholstery option.
The car also carries optional "Sonomatic" radio, electric clock, and full wheel covers, for which Tom paid $90 but has been offered $250.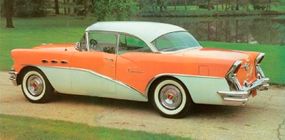 The two-tone paint job was a popular feature of the1956 Buick Special Riviera Coupe.
Finished in authentic Tahiti Coral and Dover White two-tone paint, the car now shows 75,000 total miles.
No, it's not for sale. The last offer Tom had for it -- and refused -- was a cool $9,000.
For more information on cars, see:
Classic Cars

Consumer Guide New Car Search

Consumer Guide Used Car Search