1957 Chevrolet Light-Duty Trucks
Chevrolet made several other mechanical improvements to their 1957 Chevrolet light-duty trucks. One had to do with a more rigid mounting of rear axles and the use of tapered roller bearings inside the differential. Spring shackles were now the threaded type instead of the center-draw-bolt shackles used for 1956. The new system didn't pinch the shackles and allowed freer movement.
Chevy's 4×4 option for 1957 used a four-speed gearbox and a two-speed transfer case. The two-speed control lever stood to the right of the transmission tunnel, and the driver could select direct drive or underdrive. Underdrive gave a 1.87:1 ratio and provided eight forward and two reverse speeds. The front drive axle could be engaged with this same lever, but only in direct drive, not in underdrive. The front axle was virtually the same as the rear one, the only difference being constant-velocity joints at each end so the front wheels could steer.
"When operating on a solid surface," said that year's Chevrolet literature, "with traction equal at each wheel, engine torque is equally distributed by the power transfer case to front and rear axles, thus resulting in a maximum propelling effort. If traction is reduced or lost at one axle, all the engine torque not used is automatically transferred to the other axle."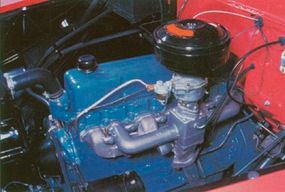 Included in the 4×4 package were heavy-duty seven-leaf front springs and eight-leaf rear springs. Tires, too, had more plies than standard to deal with the heavier loads that 4×4 usage implied.
During the mid-1950s, light trucks were working-class, blue-collar vehicles and surely not the darlings of housewives and business executives. No one could have guessed back then that Cameo style and 4×4 capability would become as widely popular as they are today.
But here we are, more than 50 years later, and the designers who style passenger cars now seem to be following the lead of those who labored so successfully in the truck studios back in the 1950s. Chuck Jordan seems to have gotten it right; he was just several decades too early. How oddly different the motoring world has become!
For more information on cars, see:
Classic Cars

Consumer Guide New Car Search

Consumer Guide Used Car Search