The predecessor to this 1950 Ford Custom Crestliner, the all-new 1949 Ford, was hugely successful but not without problems. Water leaks and shoddy workmanship in particular plagued the new design, and 1950 will be recalled as the year of The Big Fix. The follow-up edition was much improved, and there was a fancy new model, too.
Called Crestliner, it was a trimmed-up Tudor with vinyl roof, sweeping two-tone paint treatment, rear fender skirts, and a luxury interior. It was also Ford's hurried response to GM's phenomenally popular 1949-1950 "hardtop-convertibles." Though the Crestliner was decidedly elegant, the formal look wasn't big that year. And at $1,711, it was a good $200 more expensive than the Custom Tudor -- which partly explains why only 17,601 were built that year. Apparently, 1950 buyers were hungry for true hardtops, not fancy sedans.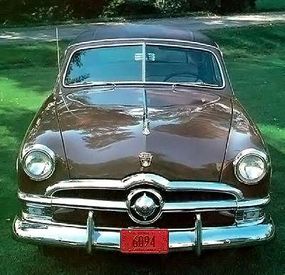 The Crestliner continued for 1951 with few changes until the long-awaited new Victoria, a genuine two-door hardtop, replaced it midway through the model year. After just 8,703 were run off, the Crestliner was dumped.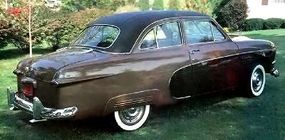 The Crestliner may not have been in step with the competition, but that doesn't detract from its appeal today. When Ford enthusiasts see one in a sea of Fifties hardtops at a car show, you can bet they pay close attention.
On the handsome example you see here, the paint and interior are brand-new, and at the time this picture was taken, the V-8 had logged more than 130,000 miles.