The 1951 Meteor Custom DeLuxe Convertible Coupe was the most refined version of the thoroughly new Ford/Meteor generation ushered in for 1949.
Meteor, the Ford Motor Company's "Canadianized" version of its namesake car, experienced a small, brief sales decline in 1951. Introduced in mid 1948 as a 1949 model, 23,037 Meteors were built for that first long selling season, according to R. Perry Zavitz in his book Canadian Cars, 1946-1984. Then, in the more normally run 1950 model year, output rose to 26,075 cars, good enough for fourth place in sales in Canada. Most of those gains were wiped out the following year, however, when production of the 1951s came to just 23,138.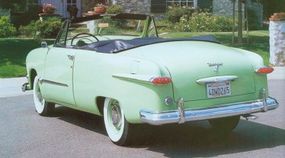 It's somewhat hard to imagine why, considering how sleek the 1951 models were. Among the new features -- albeit one that arrived late in the model year -- was FoMoCo's first automatic transmission, an optional three-speed unit. A two-door hardtop was added to the model lineup. There were new instrument panel and steering wheel designs, and key starting was adopted. A counterbalanced decklid did away with external hinges.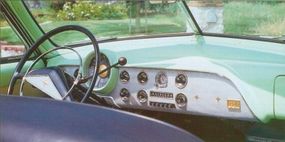 All these features and several engine and chassis refinements were shared with 1951 Fords. But there were some new things unique to the Meteor. Most prominent was a distinctive horizontal loop grille that owed nothing to the Mercury-style grille used on 1949-1950 Meteors. (As Meteors were sold by Canadian Lincoln-Mercury dealers, some sense of family resemblance had been deemed necessary in earlier years.) Trim was revised, too, and made wider use of the Meteor's four-pointed-star logo all around the car.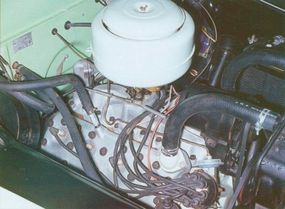 Even with the slump in sales, Meteor retained its grip on fourth place. Perhaps buyers were holding out for 1952, when a redesigned car was due. They snapped up 24,246 of the 1952s and then 37,073 in 1953. Ford-based Meteors continued on through 1961.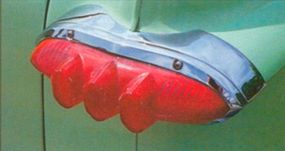 A convertible joined the Meteor line in 1950. The Sportsman Green 1951 ragtop here belongs to Ruben Wacker, of Sacramento, California. Its 100-bhp L-head V-8 features the aluminum heads and intake manifold peculiar to Canadian V-8s (though one source says cast iron heads came in for 1950). Options include overdrive, a radio, and "Magic Air" heater.