The 1946 GMC CC-152 Pickup was a continuation of a prewar design that first appeared for the 1941 model year. The basic cab and sheetmetal -- including broad new front fenders into which the headlight pods appeared to be settling -- were shared with Chevrolet.
But the GMC distinguished itself with a two-tiered grille made up exclusively of thick horizontal bars, as opposed to the Chevy's mix of vertical and horizontal bars. For those who still couldn't tell the difference, long plaques marked "General Motors Truck" were affixed to the hood sides.
Light-duty model offerings were virtually identical in both lines, but GMC justified its slightly higher prices by providing more power. Whereas Chevrolet featured a standard 216.5-cid six good for 90 horsepower, GMCs came with a 228-cube ohv six that was bumped up during 1941 to 93 horsepower at 3,200 rpm.
It featured a cast-iron block, four main bearings, mechanical valve lifters, and a single-throat carburetor. The engine would be carried over in this configuration when truck production resumed after World War II.
With the return of peacetime, GMC revived its prewar trucks as the CC (and later EC) series until July 1947, when a totally modern FC debuted. (Some sources say the FC was considered the "true" 1947 model and all CCs and ECs were deemed to be 1946s regardless of when they were built.)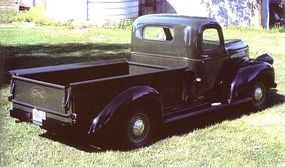 These were simple, straightforward vehicles. "Butterfly" hoods were hinged at the center and could be opened at either side for engine servicing. Lacking door vent windows, windshields still tilted out at the bottom for ventilation. Fenders and running boards came in black, regardless of cab and bed color. A floor-mounted lever activated the parking brake.
Chassis features included semifloating rear axles, hydraulic four-wheel brakes, and 15-inch-diameter pressed-steel wheels. A beam axle with semielliptic leaf springs served as the front suspension.
Pickups came in a choice of cargo ratings and wheelbases: 1/2-tons on 115- and 125.25-inch chassis, 1/2-tons at 125.25, and one-tons with a 134.5-inch stretch.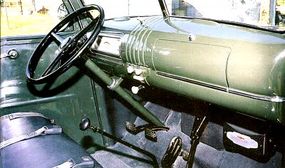 The 3/4-ton CC-152 pickup featured required a stay of two-and-a-half years in a restoration shop in Rolla, Missouri, to bring it back to the state seen here. One departure from authenticity rests under the hood. A rebuilt 1948 Chevy 216 provides power.
Apart from a full set of engine-function gauges, period trucks offered few additional comfort and convenience features. Typical add-ons for 1946 GMCs ran to a rear bumper, bumper guards, a radio and antenna, heater, clock, cigar lighter, seat covers, and a spotlight. This truck does include a heater, but that's it as far as passenger comfort goes.
There is one other option on the truck, and that's its four-speed manual transmission. The standard transmission in 1/2- and 3/4-ton GMC trucks was a three-speed synchromesh, but the four-speed could be had for an additional $15 in 1946.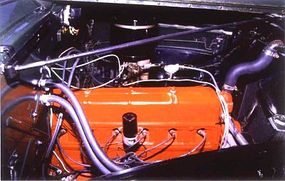 Just 33,850 GMC trucks came off the line in calendar-year 1946. A lengthy strike that wasn't resolved until April 1 kept the numbers down.