Smart Car Competitors
The Smart Fortwo isn't the only car in the super-small, super-efficient category. Let's see how it stacks up to similar vehicles on the market.
The 2006 Toyota Prius has more horsepower in both its four-cylinder gas engine (76 hp) and its electric motor (67 hp). It can also take advantage of the massive amount of torque provided by an electric motor. The EPA mileage figures for the 2004 Prius were 60 mpg in city driving and 51 mpg on the highway, which gives the Prius the advantage in the city. Reports for upcoming versions of the Prius estimate it could achieve mpg numbers above 110 [ref]. The Manufacturer's Suggested Retail Price (MSRP) on a 2006 Prius 4-door is $21,725.
The 2007 Toyota Yaris is slightly larger, heavier and faster than the Fortwo, and costs less at about $17,000 for a fully-featured version. However, it suffers in the mileage department with EPA ratings of 34 and 39 mpg in city and highway driving.
Honda's 2007 Fit is comparable to the Yaris, again slightly larger and faster than the Fortwo, with mpg ratings just below that of the Yaris, and a base MSRP of about $15,000.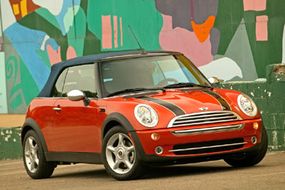 The Mini Cooper, previously the smallest car sold in the United States, weighs more than a thousand pounds more than the Fortwo, and the fuel efficiency numbers aren't very impressive: 23 mpg city and 32 highway for the automatic version. With a base MSRP of about $20,000 for the 2006, Cooper owners are paying for style instead of efficiency.
Overall, the Fortwo is probably the most fuel-efficient four-wheeled vehicle with a conventional gasoline engine on the market. It can't currently compare to the mpg numbers of a hybrid, and it's more expensive than just about any other subcompact available today, but it has a distinctive, attention-grabbing design and is certainly easier to park than anything except a motorcycle.