Smart Car Features and Gas Mileage
The Smart Fortwo comes in several variations, along with a few limited edition versions. Most of the versions differ only in terms of the body shape and comfort features in the interior.
The Smart Fortwo seats two with enough room in back for some groceries. It comes in a coupe version with a solid roof and a cabrio version with a retractable canvas roof. Each body style comes in three different models: Pure, Pulse and Passion. These reflect an increase in luxury features such as a leather-covered steering wheel, a glass roof, air conditioning and a better stereo system. Only the Pure, the low-end model, is available with a 50-horsepower engine. All three are available with a 61-horsepower engine. The Pure and the Pulse are equipped with the Softip transmission system. While technically a manual transmission, the clutch isn't required. Drivers shift with a tap of the shift lever, although some reports indicate this system creates lag between shifts. The Passion comes equipped with the Softouch system, an automatic transmission.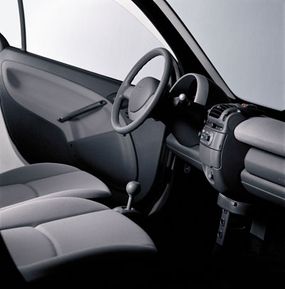 Both the 50- and 61-hp engines are three cylinder engines, with cooled turbochargers. According to Smart, the 61-hp engine can go from zero to 60 mph in about 15 seconds, while top speed is electronically limited to 84 mph for the driver's safety. (Cars as small and light as the Fortwo become very unstable at high speeds.) In city driving, the Fortwo gets a reported 46.3 mpg, while highway driving is an even more impressive 68.9 mpg. The 50-hp engine accelerates more slowly, but the electronic speed limit is the same, and the mpg ratings are the same as well.
All Fortwos also come with the following handling and safety features:
esp® (Electronic Stability Program) with Hill Start Assist

Anti-lock Braking System with Electronic Brake-force Distribution (EBD)

Acceleration Skid Control (ASC)

Electronic Brake Assist

Dual-circuit brake system with servo assistance

Disc brakes at front, drum brakes at rear