Other Mercedes Smart Cars
In addition to the Fortwo varieties, Smart has also sold a Smart Roadster and the Forfour, a more conventional vehicle that seats four. Disappointing sales led to the end of the Forfour line in 2005, but Smart may still sell Forfours in the United States. Plans for a Smart [url='367115']SUV[/url] (the Formore) indicate that the pint-sized 4 x 4 will be produced in Brazil, with half of all Formores built intended for the U.S. market [[url='http://www.channel4.com/4car/gallery/gallery.jsp?id']ref[/url]].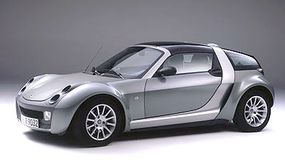 Smart has also partnered with Mercedes tuning company BRABUS to produce several BRABUS-edition cars. The BRABUS Fortwo features a 74-hp engine, but the extra weight added by BRABUS body styling and interior features mean this version actually accelerates more slowly than a Pulse or Passion Fortwo (the speed governor remains at 84 mph). The BRABUS three-spoke steering wheel has push-button gear shifters. The BRABUS Black Star Fortwo will boost the hp up to 101. Mercedes will produce only 101 units of the limited edition car [ref]. BRABUS is also producing exclusive Fourfour and exclusive Roadster editions.