Step Inside
Remember what we said about the interior being spartan? Well, it's also small. Climbing in and out of an Elise can be a complicated maneuver for anyone over 5 feet tall.
The driver's seat is adjustable -- it can move forward or back. But the passenger seat, which is smaller than the driver's seat, isn't adjustable at all.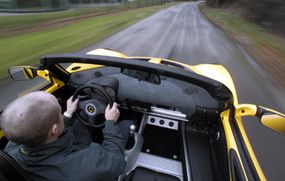 The Elise features minimal legroom.
Minimal carpeting and upholstering covers certain section of the seats and the floor. The stock Elise comes with air conditioning and a CD player, but that's pretty much it in terms of driver comfort (Car and Driver, July 2004).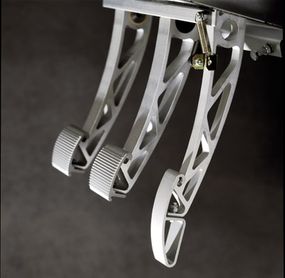 The Elise's race-car-style pedals
Combine the spartan, tiny interior with the Elise's penchant for letting the driver know exactly how the road feels (bumps and all), and you can see that this is not a car designed for the daily commute. Road and engine noise are a particular annoyance (hence the sound-dampening option in the Touring package). Nevertheless, the Elise reportedly is not an uncomfortable car -- it just isn't as comfortable as you might expect a $40,000 car to be. For some, that lack of comfort is part of the appeal. The Elise is a pure performance roadster.
How do you get your hands on one? Read on...