The 1986 Chevrolet Nova kicked off
Nova's resurrection as a front-drive car.
The 1986 Chevrolet Nova was introduced in June of 1985 as a front-wheel-drive subcompact car. It resurrecting a name last used on the compact-class rear-drive 1979 Chevrolet Nova.
The 1986 Chevrolet Nova was built at New United Motor Manufacturing, Inc. (NUMMI), a joint venture between General Motors and Toyota. The 1986 Chevrolet Nova was build from the same design as Toyota's Corolla but carried slightly different styling.
The 1986 Chevrolet Nova was initially offered only in a four-door sedan body style. A five-door hatchback was added shortly after introduction. The only engine was a carbureted 1.6-liter four-cylinder with 74-horsepower. It teamed with either a five-speed manual or three-speed automatic transmission. This was the same powertrain offered in the Corolla.
The 1986 Chevrolet Nova four-door sedan listed for $7,435, a rather stiff tariff by Chevrolet standards. The five-door, which added a split-folding rear seat, started at $7,669. Corresponding Corollas cost a couple hundred dollars less.
All Nova options were grouped into seven packages, which did away with the long list of optional equipment that accompanied such cars as the Chevrolet Chevette. (Simple though it was, the subcompact Chevette offered nearly 30 options). However, adding one of the costlier packages could easily push the Nova's sticker to over $10,000.
1986 Chevrolet Nova Facts


| | | | |
| --- | --- | --- | --- |
| Model | Weight range (lbs.) | Price range (new) | Number built |
| Nova | 2,163-2,205 | $7,435-$7,669 | 167,749 |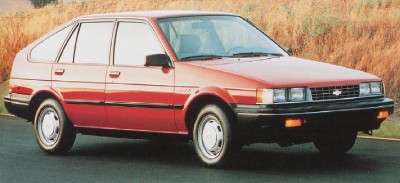 The 1986 Chevrolet Nova lineup
included a sedan and this five-door hatchback.
For more picture-packed articles about Chevys and other great cars, see:
Classic Cars: Learn about more than 400 of the world's finest classic and collectible automobiles.
Muscle Cars: Look back at tire-smoking Chevys and scores of other machines from the golden age of American high performance.
Sports Cars: Discover the pleasure of sports motoring at its purest in these captivating articles on the best sports cars from around the world.
Consumer Guide Automotive: Here's your source for news, reviews, prices, fuel-economy and safety information on today's cars, minivans, SUVs, and pickups.
Consumer Guide Used Car Search: In the market for a used Chevy or virtually any other pre-owned vehicle? Check out these reports, which include safety recalls and trouble spots.
How Chevrolet Works: Get the inside story of one of America's greatest automotive marques in this lavishly illustrated history of Chevrolet, beginning with its founding in 1911.