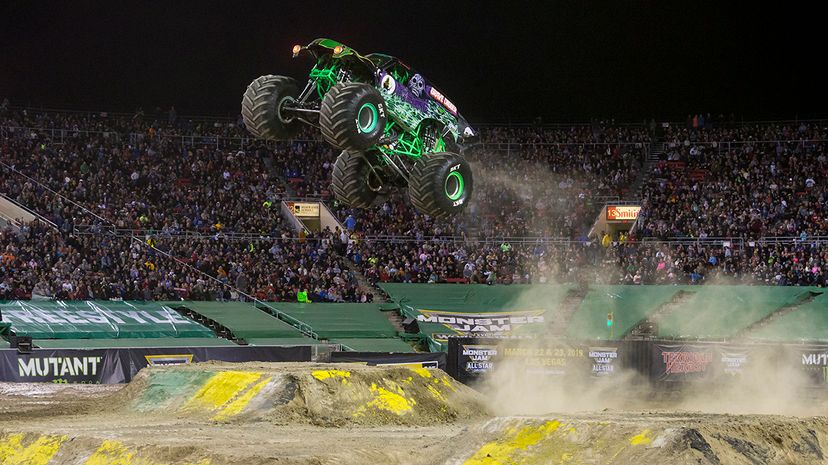 The evolution of Monster Jam could be the envy of any motorsports athlete, race team or event producer. Nowhere is that more evident than the Monster Jam World Finals, which is held annually in late March at Sam Boyd Stadium in Las Vegas (though beginning in 2019, that will change, starting with a rotating venue and new date).
Monster Jam emerged from the 1970s trend of modified monster trucks, and Bigfoot was the star. In 1981, a video of Bigfoot crushing cars caught the attention of a promoter, leading to the first official monster truck shows at tractor-pulling events in arenas. These events inspired other trucks to join in, which helped grow the sport. In 1995, the United States Hot Rod Association created Monster Jam, and its operator, Feld Entertainment, helped Monster Jam develop into a thriving, international, family-friendly event [source: Moran].
Unlike other motorsports, including traditional racing series and motocross, Monster Jam is unique in that it gives fans an unprecedented level of access to the organization's star athletes, and, more importantly, the trucks, which are arguably the stars of the show. This fan-driven culture is key to the league's significant growth, which now includes 350 events a year in 30 countries. Multiple tours are occurring across the world at any given time [source: Feld].
In 2012, Feld Entertainment, the company that manages Monster Jam, took a big initiative toward international expansion. It had a record-breaking year in 2017, with Monster Jam events held for the first time in Saudi Arabia, Argentina, Singapore and China.
But back to Las Vegas, where HowStuffWorks got a behind-the-scenes look at the World Finals event and everything that makes Monster Jam run. The World Finals is an annual two-day event that was described repeatedly over the course of the weekend by several Monster Jam representatives, as "controlled chaos." Day 1 typically features the racing series finals, while Day 2 includes Monster Jam drivers busting out their best tricks to impress the crowds during the freestyle competition. (More on both of these competitions later.)
While the fans are enraptured, hundreds of Monster Jam employees monitor the drivers' safety, choreograph the entry to the hot pits (where 47 trucks are staged between rounds with two trucks going in and out at all times), attend to broken trucks on- and off-track, and make sure everyone in attendance is having a blast.
Keep reading to learn more about the tracks, the pits, the drivers, the trucks and the rabid fan culture that keeps Monster Jam going.