The 1999 Harley-Davidson Road King Classic is one of Harley-Davidson's most popular models. Introduced in 1994, the Road King adopted a Classic version for 1998 and the new Twin Cam 88 motor for 1999.
Road Kings wore the streamlined headlight nacelle first seen on Big Twins in 1960, along with standard hard bags and removable windshield -- a combination that made them reminiscent of early "dressers."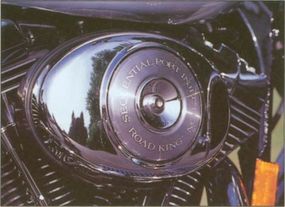 But these bikes were thoroughly up to date, especially when equipped with the fuel-injected version of Harley's new Twin Cam 88 motor that was standard on Classics. Other "Classic" features included leather-covered bags, wide whitewalls, and distinct tank badges.