The 1966 Shelby Cobra 427 Super Snake made history on January 21, 2007, fetching $5.5 million at the Barrett-Jackson Collector Car Auction, a world record price for an American car, auction organizers said.
The 800-horsepower sports car was one of just two produced and was used as personal transportation by famed racer and performance-car builder Carroll Shelby himself. The buyer was car collector Ron Pratt of Chandler, Arizona.
Shelby, 84, was present at the annual auction, which is held in Scottsdale, Arizona, and brings together hundreds of collectors who bid millions for rare muscle cars, sports cars, and other vintage vehicles.
"When I built this dual supercharged 427 Cobra in 1966, I wanted it to be the fastest, meanest car on the road," Shelby said on the Barrett-Jackson Web site. "Forty years later, it will still kick the tail of just about anything in the world. It's the fastest street legal Cobra I've ever owned." Shelby pegged the car's 0-60-mph time at just over three seconds.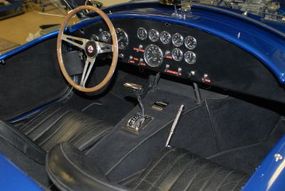 The Super Snake stood out even among the Cobras Shelby built from 1962-1968. Cobras combined Ford V-8 engines and lightweight British AC Ace bodies to create some of the wildest and most sought-after American cars ever.
To the Cobra's top-line 427-cubic-inch V-8 Shelby added two Paxton superchargers, giving the Super Snake virtually double the horsepower of a production 427 Cobra. The $5.5-million car started life as one of 23 Cobra competition roadsters and was made legal for the street with the addition of mufflers, bumpers, and other necessities.
Shelby actually created two Super Snakes. The other was originally sold to comedian Bill Cosby. Cosby returned the car after just one drive, using the fright-inducing experience as material on his comedy album, "200 M.P.H.," said Harley E. Cluxton, a collector who owned the Super Snake sold at Saturday's auction. Writing on the Barrett-Jackson site, Cluxton said Cosby's Super Snake was later wrecked in a road accident in which its driver was killed.
Cluxton said the sole surviving Super Snake still has many of its original components, including its engine block, exhaust system brake calipers, and oil coolers.
The car "speaks volumes about the genius in Carroll Shelby," Cluxton wrote. "His Cobra is the benchmark that defines the American muscle car. His baby does it all, and without the help of ASR, ESP, ABS, engine management ECUs, carbon fiber, titanium, or the United Nations. How cool is that."
Indeed, the AC/Shelby Cobra is the epitome of high-performance cool. The man responsible for it is pretty cool, too. Texas charm, a promoter's guile, and real talent made Shelby a world-famous race driver by 1959, when he won LeMans for Aston Martin.
A heart condition soon ended his track career, so Shelby turned to his dream of building the world's quickest sports car. The result was a stark terror that ate up the tracks and could bite you on the streets.
The Cobra began in 1961 as Carroll's cleverly brokered marriage between the aging-but-light British A.C. Ace roadster and Ford's lively new 260-cid V-8. A stronger 289 quickly followed, giving race-tuned Cobras up to 380 horsepower and overall 1963 crowns in SCCA A-production and the U.S. Road Racing Championship.
Shelby built 655 small-block Cobras by 1965, when he introduced an even harrier "sport car" (as he termed the breed). Because A.C.'s old transverse-leaf spring suspension was never up to Cobra power, the steel multi-tube frame was widened and strengthened for a modern all-coil setup (still with double wishbones) and for Ford big-block V-8s: either the high-strung racing 427 or the cheaper but equally torquey 428-cid passenger-car unit. The roadster's aluminum body was suitably altered, gaining macho flared fenders stretched over gumball tires.
­