Ford had its Country Squire, Mercury had its Colony Park, and when Edsel made its debut for 1958, it would have its own deluxe Bermuda Station Wagon. Like its counterparts from the other Ford Motor Company divisions, the 1958 Edsel Bermuda Station Wagon stood out at a glance due to its simulated wood trim.
The public buildup for the Edsel -- more than a year in the making -- led consumers to believe the corporation's new medium-priced make would be nothing less than a radical departure in automobiles. But when the wraps finally came off on September 4, 1957, the only truly radical feature of the car was its styling. The Edsel ran nose-first into controversy with its vertical central grille that detractors came to call the "horse collar." In engineering, though, the 1958 Edsels owed practically everything to the Fords and Mercurys from which they were derived.
The Edsel Corsair and Citation shared bodies with Mercurys, but had their own wheelbase and 410-cubic-inch version of the V-8s developed for Lincolns and Mercs. The price-leader Ranger and step-up Pacer not only borrowed body shells from Ford's Fairlanes, but had the same 118-inch wheelbase.
Like many manufacturers, Edsel treated its wagons as a separate series. The two- and four-door Villagers were trimmed to match the Rangers. Four-door Bermudas got the slightly plusher Pacer interior. But they all had the same basic bodies and 116-inch wheelbase of Ford station wagons.
Ford launched the "FE" series of V-8 engines in 1958. The largest, a 361-cubic-inch job, was reserved for the junior Edsels. The "E-400" (for its torque output) made 303 horsepower. A three-speed manual transmission was standard; overdrive and a three-speed automatic could be ordered.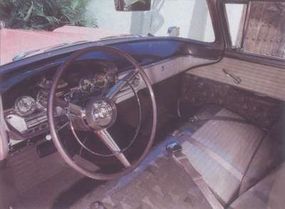 The Bermuda seen here is one of 1,456 six-passenger models made. (Another 779 came with seats for nine.) Current owner Ned Scudder, of La Jolla, California, was attracted to it as soon as he saw it at a car show in the summer of 1999. When the Edsel collector who owned it offered it for sale six months later, Ned pounced on the opportunity.
According to Scudder, the Bermuda was repainted in 1998, but is otherwise original. Options include the automatic transmission with Teletouch push buttons, dual exhausts, and twin external mirrors.