The 1950 GMC FC101 pickup sustained a new, more modern look introduced by GMC two years earlier, but it was also closer than ever to the appearance of its Chevrolet counterparts.
Like Chevrolet, GMC redesigned its trucks for 1948, adopting a cleaner, more contemporary appearance that was, to the disappointment of GMC fans, more like that of Chevrolet than ever before. Differences were confined to minor variations in grille treatment, equipment, and mechanical specifications.
Both makes featured low-silhouette cab styling that was definitely postwar in flavor, even if it lacked the grace of Studebaker's new 2R series, or the simplicity of International's equally new L-series. Highlights were rounded lines, reduced hood height, wider grilles with horizontal bars, and headlamps fully integrated with the front fenders instead of in pods.
A practical touch on deluxe-cab models was a three-piece rear window with curved side sections that wrapped around the roof and ran forward almost to the doors, aiding visibility. In all, the new model marked a vast improvement in GM truck design.
Plenty of improvements went inside, too -- enough to keep brochure writers working overtime. Comfort and convenience got more emphasis than ever, and in future years the market's demand for car-like amenities would prove increasingly important.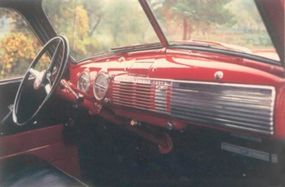 GM literature boasted of door openings four inches wider than those on prewar models, plus greater glass area that improved the driver's outward vision by a claimed 15 percent. The new cab styling brought a longer passenger compartment with an extra seven inches of legroom. Head space grew by more than an inch, despite lower cab height.
One-piece instrument panels had toeboards "scientifically insulated for complete driver comfort" (according to a GMC catalog). Concealed door hinges, a foot-actuated parking brake, easy-action steering-column gearshift, and integral cowl ventilation were equally important. The 228-cid GMC six-cylinder engine developed 96 bhp.