The 1949 Pontiac Streamliner Eight DeLuxe station wagon was an anomaly in the postwar auto market. After World War II, most U.S. automakers dusted off their 1942s and proceeded to sell all the cars they could produce. Problem was, they couldn't build nearly enough because they were hampered by steel shortages and strikes.
Thus, virtually none of the Big Three middle-price makes bothered to change their looks -- grilles in particular -- from 1946-1948, not even for model-year identification. Pontiac did.
It wasn't necessary, but apparently Pontiac management felt some loyalty to the annual model change, so the 1946 and 1947 models featured recognizably different front ends. So did the 1948, which sported a "floating" bar at the top of the grille that doubled as a Pontiac nameplate. The overall effect was to make the front end look wider and more massive.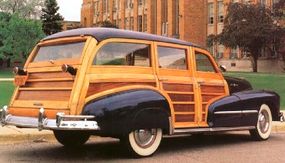 Meanwhile, Chief Pontiac's silhouette moved up from the grille surround to the bottom of the Silver Streaks, which now numbered three, rather than five. The Chief received additional massaging as he now rode atop the hood with a red translucent plastic face.
In back, the rectangular taillights were traded for round lamps (wagons had different round units), which would be used in one form or another for a decade. On the fenders, the triple "speedlines" were replaced by a single front fender chrome spear on the DeLuxe (but not standard) models.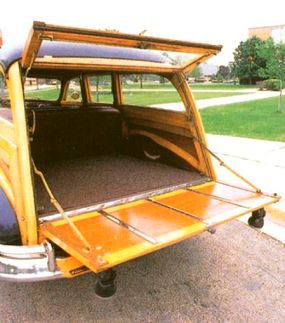 Of the two series, the Torpedo listed semi-notchback sedans and coupes, plus a convertible. The Streamliner line was composed of fastback sedans. All models in both series could be ordered as a Six or Eight, and most in standard or DeLuxe form. With all these permutations, there were 30 models listed.
For some unexplainable reason, the station wagon was placed in the Streamliner series -- though it was hardly a fastback. And it came in four models: Streamliner Six and Eight, regular and DeLuxe. The wagon seen here is the Streamliner Eight DeLuxe; at $2,490 it was the costliest 1948 Pontiac.
The straight-eight engine displaced the same 248.9 cubic inches it had since 1937, though horsepower had crept up from 100 to 103 in 1947, and to 104 for 1948. For those intent on more go, a high compression (7.5:1) head boosted output to 106 horsepower.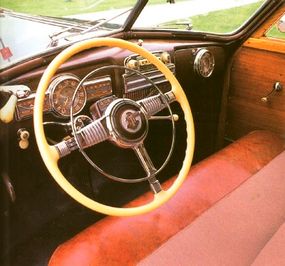 The big news for 1948, however, was the arrival of GM's four-speed Hydra-Matic. It was a hit: of the 235,419 Pontiacs built that year -- 171,946 were so equipped.
The wagon, "a great comparative value," Pontiac boasted, was to be the last traditional woody the division would build. In 1949, a "partial" woody bowed, with the wood mainly around the tailgate; an all-steel wagon took over at mid-year.
But in 1948, Pontiac billed its wagon as "The beginning of a beautiful friendship!...there is no more faithful or satisfying car to be had anywhere in the world...You can never do better than a Pontiac!"
For more information on cars, see:
Classic Cars

New Car Search

Used Car Search