Many Ford advertisements in the 1920s and 1930s were specifically directed at women drivers. Other ads were more subtle, like one for the 1934 Ford DeLuxe five-window coupe, which showed a man and a woman in the coupe, with the woman behind the wheel.
But the ad didn't mention gender because the topic at hand was one near and dear to Ford following the debut of the V-8 in 1932: economy. The reason was that Ford had to counter the oft-held idea that its V-8 was thirsty -- an important point during the Depression.
Headlined "One economy you will enjoy," the ad boasted that "With all its power, the Ford V-8 is a most economical car. Its V-8 cylinder engine actually uses no more fuel than a 'four.' It is a saving of oil and tires. And the depreciation is less than you would expect...To drive the Ford V-8 is thrift indeed. But it is also a most satisfying pleasure.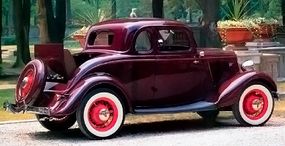 "Its superb performance is easy and sure. It shortens distances, not so much by reason of its potential top speed, but by the swiftness with which it resumes running speed after the inevitable stops and pauses...We would like to have you know this car by driving it on the open road. Will you?"
The 1934 Ford had much more going for it than power and economy, however. It was also stylish, thanks to Henry Ford's son Edsel. Though only mildly face-lifted, a thicker grille surround and straight hood louvers quickly separated it from the 1933. So did 15 horses -- there was now 90 horsepower.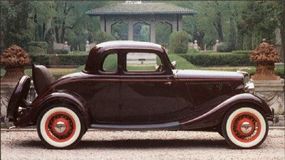 Aside from the various ragtops in the line, the sportiest models (at least in latter-day eyes) were the coupes. Ford offered them in three- and five-window body styles, standard and DeLuxe trim, and with or without a rumble seat. And though it's little known, they could even be had with a V-8 or four.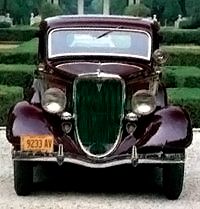 The bodies of both the three-and five-window coupes were built for Ford by Murray, and both featured a roll-down rear window. Besides aiding ventilation, that feature made it possible to converse between cabin and rumble seat. In addition, the five-window layout allowed for a parcel shelf behind the seat. Like all 1934s, the coupes rode a 112-inch wheelbase and weighed just over 2,500 pounds.
The five-window coupe seen here is a DeLuxe, so it came with twin exterior horns and cowl-mounted parking lamps. The base price was $555, though the spotlight and greyhound hood ornament cost extra.
Ford produced 26,348 three-window coupes for 1934 (plus seven four-cylinder models). The five-window was far more popular: 47,633 standards (plus 20 four-cylinder) and 26,879 DeLuxes (plus three four-cylinder). The aforementioned ad showing the 1934 five-window coupe said that "Any Ford dealer will gladly put one in your hands." It should be so easy now!
For more information on cars, see:
Classic Cars

New Car Search

Used Car Search