The 1942 Chevrolet Special DeLuxe Fleetline Aerosedan, a two-door fastback, was by far the most popular Chevy of the year. A whopping 61,855 were produced during the short model year. Three stainless-steel "speedlines" on the front and rear fenders identified Chevy's top trim level.
On December 8, 1941, the United States entered World War II. Due to the ensuing shortage of war materiel, on February 2, 1942, civilian passenger-car production was ordered to a halt. And beginning January 1, 1942, the auto industry's use of brightwork was curtailed by the government.
So that no car manufacturer would gain a sales advantage while the use of raw materials was regulated, Washington ordered that no new cars could be delivered with exposed stainless-steel or chrome trim with the exception of bumpers, bumper guards, and windshield wipers. The resulting cars were dubbed "blackout specials" or "blackout models."
Chevrolet responded by painting window trim, hubcaps, grilles, and other trim on new Chevys the lighter of its two-tone colors, usually off-white or light gray.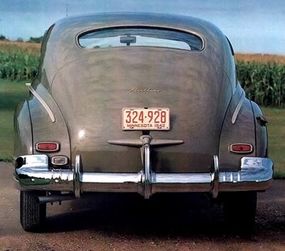 Painted trim was therefore applied to the handsome 1942 facelift, which included a new, bolder-looking grille; longer fenders that extended into the doors; and a hood lengthened to the door edge, eliminating the cowl side. These changes resulted in a longer, lower, and wider appearance, although overall length was reduced from 196 to 195 inches.
All 1942 Chevys were powered by the same 90-bhp, 216.5-cid "Stovebolt" six used since 1937. Wheelbase remained at 116 inches.
Roger A. James of Buffalo, Minnesota, owns the 1942 Fleetline Aerosedan featured here. Painted Chevron Gray with Torpedo Gray trim, it is an extremely rare example of a blackout special. Since its restoration, it has consistently taken first place and has won two best of shows at Vintage Chevrolet Club of America and Antique Automobile Club of America events.
Chevrolet restyled its pre-war line in 1949, but the blackout specials would go on to become symbols of those historic and crucial first weeks of 1942.