The words Edsel and styling rarely appear together without prompting memories of the car that proved an embarrassment to Ford Motor Company almost three decades ago. But Edsel, as in former company president Edsel Ford, was responsible for one of the most revered automotive designs of all time: the timeless 1940-1941 Lincoln Continental.
From the moment it appeared it was a car that turned heads and made people eager to part with lots of money just to own one. Today, more than 40 years later, it still does.
Edsel dreamed of making Lincoln the best car in the world. Blessed with an unerring sense of style, he was enamored with the look of certain European cars, with long hoods and fenders, narrow grilles, and other elements he thought of as "continental."

In 1938 he commissioned a special custom convertible incorporating such traits, based on the production Lincoln Zephyr. Built with the assistance of E. T. "Bob" Gregorie, the young head of Ford Motor Company's design department, it was delivered to Palm Beach, Florida, where Edsel used it on his annual winter vacation. It immediately attracted inquiries from over 250 people as to when it might be offered for sale.
Encouraged by this response, Edsel okayed a production version as an addition to the 1940 Zephyr line, and his personal car reached Lincoln showrooms with only minimal changes.
Powered by the Zephyr's 292-cid, 120-horsepower V-12, the Continental appeared without any identifying nameplate as Edsel's four-seat cabriolet and as a closed coupe. Model year production was 54 and 350 units, respectively.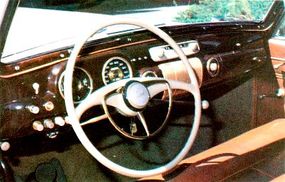 The 1941 was little changed but became a distinct model separate from the Zephyr and picked up appropriate name script. Though it weighed close to two tons, the Continental was agile for its time, highly refined, and simply matchless in its beauty. Production was 400 cabriolets and 850 coupes. ­
The 1941 Lincoln Continental Cabriolet featured is owned by Harry Wynn of Antioch, California, who bought it in original condition in 1975 and restored it five years later. No, it's not for sale.